This is a series of reflections following my trip to the Holy Lands this fall. What a profound and life-changing experience to walk where Jesus lived. Visiting Israel opened my eyes and refreshed my heart on so many levels – historically, politically, biblically and spiritually.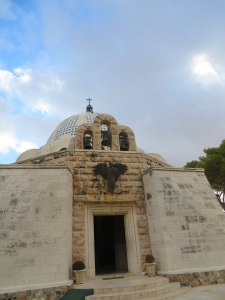 Music marinated my soul on our trip to Israel. I didn't realize how deeply the songs we heard and sang still rang within my heart until we were home. My memories anchored in Holy Lands harmonics in a land of not much harmony.
"Music is well said to be the speech of angels; 

in fact, nothing among the utterances allowed to man
is felt to be so divine. 

It brings us near to the infinite."

~ Thomas Carlyle
The Church of the Angels in Bethlehem's Shepherds' Field stands out first in my mind. This church is built in the shape of a shepherd's tent in the place that could have been the site where the angels announced Jesus' birth. Painted angels encircle the bright white ceiling, with words written in gold: "Glory to God in the highest, and on earth peace to those on whom his favor rests."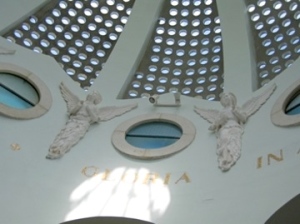 We entered the church – the only group there. We stood in a circle in the bright, round sanctuary and prayed for peace on earth. I really believe the angels joined our reverberating voices as we sang O Come All Ye Faithful and Angels We Have Heard on High.

Me – the one who rarely cries – couldn't sing after the first verse. The emotion of where we were – the Holy Lands -, the sacredness of sharing this moment with precious friends, and the significance of the story overwhelmed me.
"Music does bring people together. 
It allows us to experience the same emotions.

People everywhere are the same in heart and spirit.

No matter what language we speak, what color we are,
the form of our politics or the expression of our love and our faith,
music proves:
We are the same."

~ John Denver
Music followed our steps throughout our journey:
This Little Light of Mine – sung and danced to joyfully on a boat in the middle of the Sea of Galilee
Jesus, Remember Me – solemnly chanted, echoing off the walls of the pit where they lowered Jesus before his crucifixion.

The loud speakers blaring the Muslins' call to prayers throughout the day.

The concoction of choruses sung in different languages in Capernaum.

And I will never forget the boisterous, joyous Nigerians with the loud chants, rhythmic drums and gleeful dance celebrating God's presence.
Music melts all the separate parts of our bodies together.
~Anaïs Nin
Many people, diverse backgrounds, different languages – all praying and praising the same God.
Music is the language of heaven.
How does music help you worship?