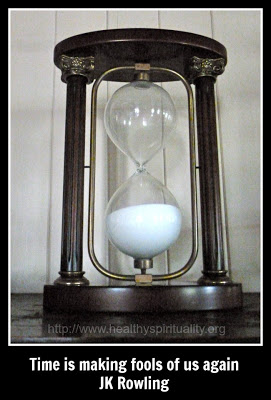 One of my best friends, Esther, lived 99 1/2 years. I figured she saw more than 36,300 days in her life.
She still makes me smile. She would tell me that all her friends had died and were in heaven. She decided they got tired of waiting for her to join them and since she hadn't appeared up there yet, they assumed she went elsewhere. We would always laugh about that.
She is counting days in heaven now.
Why is it we need to lose a loved one, face a health threat, experience a tragedy to wake up and embrace life?
In my quiet time lately with palms open upward, I cradle the fragile bubble of time. This image started when I realized over the holidays, that I have lived longer than both of my parents. I lost them both too young and with too many days left unspent.
As of today, I have lived 22, 938 days.
I don't want to waste this precious gift of life.
The other factor stirring my soul with the sweet appreciation of life is a new book by Robert D. Smith called, 20,000 Days and Counting: The Crash Course for Mastering Your Life Right Now that I recently read.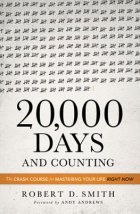 This motivational, self-help book was a quick read, and at first I thought a too quick of a read. Full of sound byte types of wisdom, it certainly isn't an in-depth find the meaning type of book. BUT its message has lingered with me. His book and my yearly review (see my last post) fueled my thinking and nourished my soul.
 In 2009 Smith realized he had been alive nearly 20,000 days. Overwhelmed with the feeling he has more yet to do in life and how rapidly time had already passed, he began to reflect on his future.
 His questions are our questions too. 
What can we do right now in order to make the most out of the years in front of us? 
What can we do to accomplish more, celebrate more and to touch more lives in our remaining years than we have to this point?
How can we lie our next days to the fullest?
This book doesn't have all the answers and falls quite short of fulfilling its tag line of mastering life right now. Smith gives some quick points that have helped him and he does gets the reader to pause, reflect and think about living each day with purpose. The book succeeds in helping us number our days and to value the gift of time. He provides some good food for thought but each of us must do the difficult inner work of finding meaning in life on our own.
   "We have an amazing ability to overestimate that we can do in the next five years and totally underestimate what we can do in the next fifteen minutes."
"Ponder the kind of life you would like to look back on when you come to die. There is enormous wisdom in such thoughts and meditations. Think often of your death."
I don't think cherishing each day as if it may be your last is depressing. It is life giving. Getting up each day, I find energy in being grateful for a new day before me. I discover hope in knowing I hold the gift of today in my hand.
 "Decisions you make right now can change your life forever. Literally forever. You do not choose to be born. You do not choose your parents. You do not choose the time period in which you live. You do not choose the country of your birth. You do not choose the circumstances of your upbringing. In most cases you do not choose to die. You do not choose the time or conditions of your death.
   Despite all the realms of this choicelessness, we do choose how we will live.
  May you have a glorious ending by beginning today."
How do you make each day count in your daily living?
Disclosure of Material Connection: I received this book free from the publisher through the BookSneeze

book review

bloggers program. I was not required to write a positive review. The opinions I have expressed are my own.