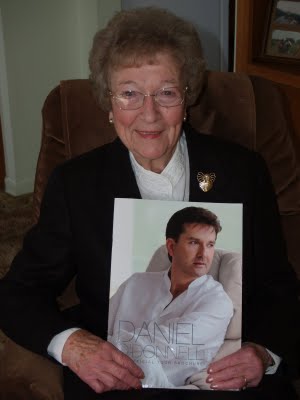 My best friend, Esther, celebrated her 98th birthday last week. Ask her what her secret to a long life is and she will tell you with a giggle:
"Pie and ice cream."
Esther still lives independently in her own home. She goes out with friends and would mow her lawn if she had the strength. She does love working in the yard, picking the weeds and planting green peppers, tomatoes and flowers each year. Right now she is busy deciding whether to get her house repainted (lasting 15 years) or sided (to last much longer.)
"They will still bear fruit in old age. They will stay fresh and green." – Psalm 92:14.
When I read this verse, I think of Esther. What a role model she is for aging with grace.
What lessons have I gleaned from watching her?
Reaching Out – Esther reaches out to others with simple acts of kindness such as baking pies for funeral dinners and sending cards. But she also reaches out when she needs help. She has a broad network of people she leans upon for help and is willing to pick up the phone to ask for assistance – something I know I have great trouble doing. She identifies her need and seeks aid in solving that problem.
Laughing and Smiling – Esther's laugh erupts in a hearty ha-ha-ha. And her smile which she offers frequently lights up her whole face.
Music – This is a lady who in her mid 90s bought a CD player so she could buy CDs from her newly discovered favorite artist, Daniel O'Donnell. She will stay up past midnight when his show is on PBS and has written him for his autograph. We attended his concert together in Toledo and when he went through the audience, he kissed her on the cheek. She gushed like a 14 year old saying she would never wash her face again. One is never too old to become a groupie.
Expressing feelings – When I ask Esther how she is doing, I get an honest answer. She has good days but will also respond to me, "not so good today. I am feeling tired/sad/lonely." She openly tells me at times when she goes to bed at night she prays she doesn't wake up but when she does, she is thankful to God for a new day. She identifies and articulates her deepest emotions.
Lifelong Learning – Esther reads and reads and reads. She love learning through CDs, books, PBS and good old Dr. Phil. She likes to discuss current news, especially politics.
Flexibility – Last week we talked about the recent changes in our church's policy to ordain openly gay clergy. I would assume that older people would have great difficult with this new view. It surprised me how willing she accepted this massive revision. "God loves us all, Jeanie," she said. "Jesus welcomes gays as readily as you and me." You may not agree with her but, wow, that is an open, accepting attitude. I call that – unconditional love.
Go anyway – One of her practices is not to hide out in her home – If she doesn't feel like going to church, go anyway. The same holds true for visiting hours at a funeral home or a hospital/nursing home visit. Doing what is right is more important than feeling sorry for yourself.
My life is much richer knowing Esther, but I need to go now. I am feeling a growing desire for some reason for "pie and ice cream."