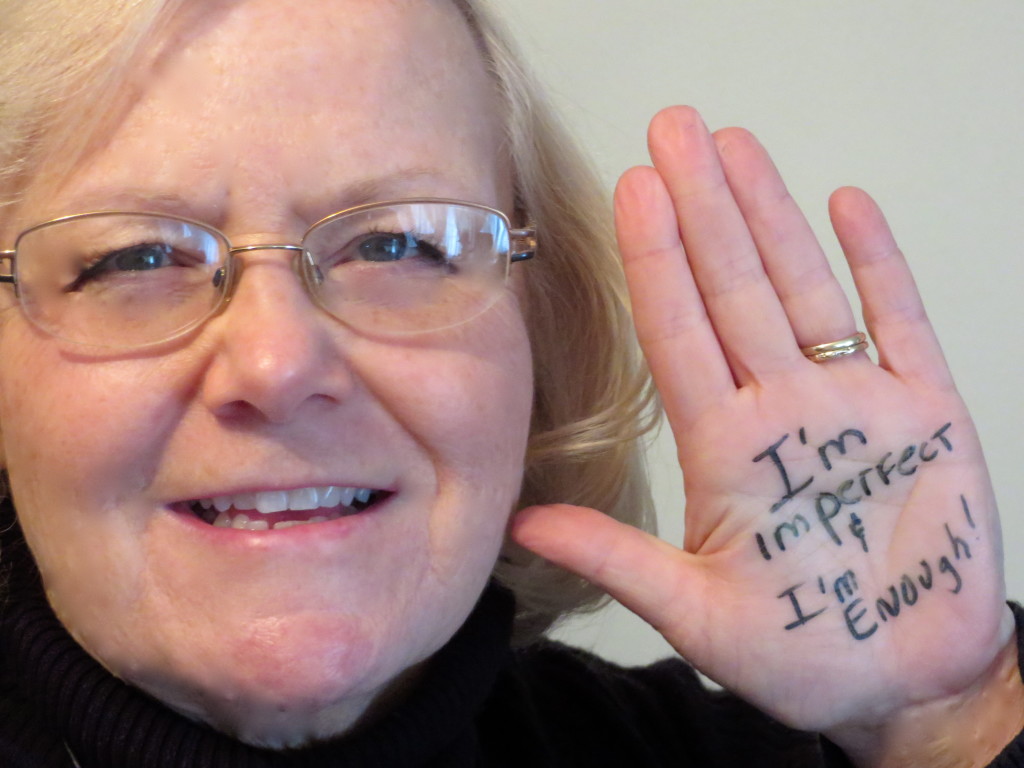 "I'm imperfect and I'm enough." Sounds good on the video, but not sure I really believe it.
"I'm imperfect and I'm enough."  Why did I ever sign up for this course and nobody will ever know if I don't write about it. I will just stay in the shadows and not take the risk.
"I'm imperfect and I'm enough." Yeah, right. Had my hubby take the photo above – one of the class assignments – but of course I had to edit it and touch up my cold sore and age spots before posting it here. Then in a silly moment I told some others what I did and Kathy said to me, "I read your blog and now will look to be sure you post this."  Rats, now I'm stuck out in the open.
YIKES what have I done? I am feeling rather exposed, vulnerable, self-conscious here.
You see I am taking an online class taught by one of my favorite teachers, Brene Brown. In readings, activities and videos it's like having a cup of coffee with a good friend, enjoying deep conversation. I finish thinking, sure I can do this…then two days later when writing this post, I panic.
What will you think?
Will you laugh?
Will be unsubscribe?
Will you think less of me?
The course is based on Brene Brown's book The Gifts of Imperfections. When we accept that we are imperfect and that is enough, we find the riches of courage, compassion and connection. One of our first assignments was to write this statement on our hands and have a photo taken taking this pledge.
Now I know this are just words, but it is a pledge to myself.  I have been surprised at my gut reaction to this, which tells me I need to pray and let God shape this inner work within me. In order to do this will take courage and self compassion and connecting with Him and with that deep place of inadequacy within me that I don't like to reveal publicly – on a blog, in any of my writing or verbally even to my most trusted friends.  Too often we expect to keep the mask of perfection up and held tightly so our true imperfect self won't show.
But even with my flaws, my mistakes, my ups and downs, God loves and accepts me as I am.  As the quote from Paul Tillich that I shared last Saturday goes:
"The courage to be is the courage to accept oneself,
in spite of being unacceptable."

Brene writes that wholehearted living is about engaging in our lives from a place of worthiness. It means we wake up in the morning knowing that no matter what gets done and how much is left undone, we are enough, And at the end of the day, all our imperfections, vulnerabilities and even fears will never change that fact that we can be brave and worthy of love and belonging.
And this takes practice. A life long journey of being formed by God, loved by God, led by God.  A daily practice of knowing God loves me as I am and I am enough as he created me.
I am wondering: the more compassion and gentleness I allow myself to give to myself, the more compassion and acceptance I will feel towards others. How would my life be different if I were kinder and gentler with my self talk and conflicting emotions?
She writes, "If we want to live and love with our whole hearts, and if we want to engage with the world from a place of worthiness, we have talk about the things that get in the way – especially shame, fear and vulnerability."
So I post this photo of me, still edited since I am ashamed of a silly cold sore, still with some fear you will laugh at me and still with tons of vulnerability. Removing those ill-fitting masks, I am beginning to say a little louder and with more resolve,
"I'm imperfect and I'm enough."