Pray continually. 1 Thessalonians 5:17
Devote yourselves to prayer, being watchful and thankful. Colossians 4:2
Prayer is the foundation for our spiritual walk. I like what
Oswald Chambers
wrote, "
Prayer does not fit us for the greater work, prayer is the greater work."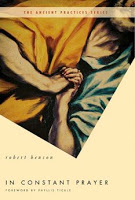 In Constant Prayer

is the newest book by Robert Benson and I am happy to add it my bookshelf next to other books I have by him:
Venite

and
A Good Life

.
In Constant Prayer explains the pattern of prayer and worship called the Daily Office. This ancient practice is also known as the liturgy of the hours, fixed hour prayer, the divine office, the divine hours and daily prayer. It is the discipline of praying at fixed times throughout the day and night. Though its structure may not appeal to everyone, we are all called to deeper communion with God and this is certainly one way to open our hearts to hear God better.
Benson writes in a warm friendly style like you are having a cup of coffee with him discussing ways to pray. He shares the background of the daily office and ways to overcome any possible obstacles. The book is a wonderful resource for anyone wanting to learn more about this spiritual practice.
"I am aware, too that first and foremost we are called to worship the living God, to pray without ceasing, to say the prayer that Christ can now only say through us," Benson writes. He stresses that at some point we have to stop talking about prayer and actually pray – allowing it to work into the dailyness of life.
The book also contains sample prayers, additional resources, and a study guide. This thoughtful book is a great introduction for someone who doesn't know much about the daily office.
In Constant Prayer
is part of the Ancient Practices is a new eight-book series from Thomas Nelson Publishers that covers the seven essential spiritual disciplines. The whole series sounds fascinating.
I do need to let you all know that I received this book free from the publisher through the BookSneeze.com book review bloggers program. I am disclosing this in accordance with the Federal Trade Commission's requirement.
I have dabbled in the daily office off and on the past few years and In Constant Prayer deepen my hunger to explore this practice once again.
How about you? How do stretch and grow your prayer life?