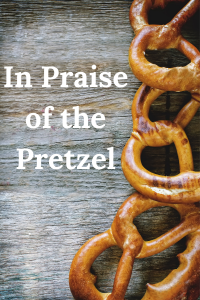 Pretzels!  Did you know April 26 is National Pretzel Day?  I never heard of this before and what a fun and yummy discovery.
The Twisted History
Pretzels do belong in a faith blog like Healthy Spirituality because pretzel have religious roots.
Legend tells that the first pretzel was created by a monk around the 7th Century A.D.to reward children for saying their prayers. The treat of baked dough was twisted into the shape or crossed arms. Some say they were originally called "bracellae," the Latin term for "little arms," from which Germans later derived the word "bretzel."
One place promotes the pretzel starting in Italy while another source puts the invention in a monastery in southern France. Seen as a symbol of good luck, prosperity and spiritual fulfillment, pretzels were also commonly distributed to the poor, as a way of providing them with both spiritual and literal sustenance.
The looped pretzel may also be related to a Greek Ring bread from the communion bread used in monasteries a thousand years ago. The shape of the pretzel resembles a heart, a good reminder to love others and God. Pretzel legend tells that in 1614 in Switzerland, royal couples used a pretzel in their wedding ceremonies to seal the bond of matrimony, and that this custom may have been the origin of the phrase "tying the knot."
Others say the three holes created by the twisted dough symbolize the Father, Son, and Holy Spirit.
Fun Pretzels Facts
Impressed your family with these fun facts:
Pennsylvania is the center of American pretzel production for both hard and soft pretzels, producing 80% of the nation's pretzels.
The annual United States pretzel industry is worth over $550 million.
The average American consumes about 1.5 pounds of pretzels per year.
Philadelphia opened a privately run "Pretzel Museum" in 1993.
Hard pretzels originated in the United States in 1850.
Julius Sturgisopened the first commercial bakery in the U.S, in 1861 in Pennsylvania.  . Like everyone else, Sturgis made pretzels that were soft, but he soon realized that these soft pretzels quickly went stale, which meant they needed to be sold quickly and couldn't be shipped very far. To overcome this obstacle, he developed a hard pretzel: By using less water, he was able to create a more brittle, cracker-like snack.
The first pretzel to journey to America is thought to have come over on the Mayflower.
The largest pretzel weighed in at 842 pounds and was 26.8 feet long and 10.2 feet wide!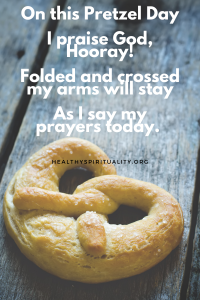 A Silly Pretzel Prayer
On this Pretzel Day
I praise God, Hooray!
Folded and crossed my arms will stay
As I say my prayers today.
Enjoy a pretzel and remember to pray!
What do you think of pretzels? Hard or soft? Any special memories about pretzels? (I love the  cream cheese one found in Tomorrow Land at Walt Disney World.  So yummy!)