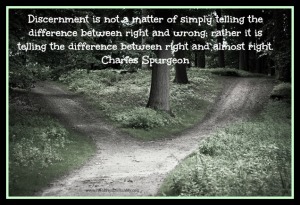 I had a discernment dilemma this week. I was indecisive. Waffling. Uncertain which to choose.
The phone rang about a month ago and the voice on the other end was a long time friend whom I had worked with professionally in my former life in health administration. He knew I was a writer and needed someone on his staff with that skill plus knowledge of community politics and collaboration building. He would pay me well. I could name my hours. A wonderful use of my gifts. Good deal he said.
My ego swelled. Someone wanted me. Wanted me back and based on my new role in life. The money sounded tempting too.
He was traveling and said he would get back with me.
So I pondered.
     I prayed.
             I listened.
To God.
     To my heart.
          To my dreams.
                To my already packed schedule where I am not spending time on what is truly important to me, but only responding to the urgent and other people's desires.
But my self-conceit continued to confront my conclusion.
My gut felt like two wild cats haggling for control.
This is simple right?  Well…
Did I like the field he asked me to work in? No.
Did I have the time? No.
Did I feel God calling me in this direction? No.
Would it be convenient and lead to new opportunities? Probably no.
Did I want to do this? No.
Why the struggle? I hate to admit this but my ego, my greed for money and my wanting to be someone kept stirring up the pot, confusing my final determination.
He called again. Lunch? We can talk details.
I politely told him I didn't think I was interested.
He asked again. What's the harm in getting together and talking? Get all the specific information, then decide.
I relented. We set up a date and time to meet.
Then I plunged back into the indecisive discernment battle over the weekend.
By Monday I knew. I made my mind up I had to call, cancel the lunch and tell him a firm no.
But I lingered. Ahh, the purring of an ego being stroked is powerful.
We were gone for a few hours and when we returned, a message was on our voicemail. He called once again, saying he knew I was hesitant and I was off the hook as he found someone else. And he had to cancel the luncheon date too due to a scheduling conflict.
My reaction? I smiled, then laughed, and twirled in a dance of relief.
God shut that door for me. Boom. Abruptly. Locked and sealed.
 "Nope you aren't going that direction, Jeanie. I have told you in so many ways. I am just going to make it clear to you."
I have been reflecting about this incident. What a gift this struggle has been for me. I help others with discernment in my spiritual direction practice. I love St Ignatius and all his writings about discernment. I devour books on this topic. My head knowledge is strong. My heart is willing to listen to God and follow his leading. But my human nature, my self-centered ego, thought it would be fun to trip me up, lead me astray and distract me.
What have I learned? This whole incident reminded me to trust in God and his guidance. To trust my gut and what I have learned in discernment. To be honest with myself when it comes to the lure of worldly motivations. I shouldn't and won't say yes to something just based on ego and money. That is not how I want to live. 
"Making a decision usually means taking one of two roads. One is doing the right thing. To take the other road, you have to sit back and spin a story around the decision or action you are taking. If you find yourself thinking up an elaborate justification for what you are doing, you are not doing the right thing."
Wayne Sales
My Lord God, I have no idea where I am going. I do not see the road ahead of me.
I cannot know for certain where it will end. Nor do I really know myself, and the fact that I think I am following your will does not mean that I am actually doing so.
But I believe that the desire to please you does in fact please you. And I hope I have that desire in all that I am doing.
I hope that I will never do anything apart from that desire.
And I know that if I do this you will lead me by the right road, though I may know nothing about it.
Therefore I will trust you always though I may seem to be lost and in the shadow of death.
I will not fear, for you are ever with me, and you will never leave me to face my perils alone.
Thomas Merton
What helps you with discernment?