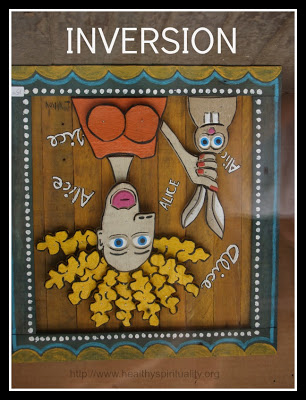 Inversion – 
The act of reversing, 
turning inside out 
Inversion – what has happened to my belief about my independence and how I perceive interruptions.
Independence Inversion
Most of my life when asked to identify my strengths, one answer I would give with a firm nod of my head is my independence.
My parents died when I was young. My older brothers were absent for many reasons. My independence brought me leadership opportunities, chances to learn, and affirmation from others.  I could do anything I put my mind to. I was proud to be independent.
As my spiritual journey continued and my chronological path led to a little more wisdom, I now see my independence as an obstacle to God. I think I need to be in control.
Thank you, Lord, but I can handle this one on my own. 
I'll get back to You later when I need You. 
My trait of independence once flaunted and trotted about in all its glory, now feels heavy, weighing me down and pulling me away from God.
The whole Christian life is a life in which the further a person progresses, the more he has to depend directly on God…
The more we progress, the less we are self-sufficient.
The more we progress, the poorer we get so that the man who has progressed most, is totally poor – he has to depend directly on God.
He's got nothing left in himself.
My belief in independence has slowly crumbled. I found its foundation weak and shallow rooted.
I loosen my grip on my independence and grab with all my might God's grace. My belief has been inverted.
Interruptions Inversions
As I write this blog post, the phone rang three times. Sigh. Interruptions.
I used to believe that interruptions interfered with my accomplishing my precious plans for the day. I hated them. The devil invented interruptions and threw them at me like piercing darts throughout the day.
I loved caller ID, so I knew if I HAD to pick the phone up or let it go to the answering machine. I hid in my office at the back of the house, far from people and doorbells and unexpected company.
Now interruptions bless my day. I see them as surprise opportunities; maybe God-nudges at times. People are more important than my plans.
He welcomed them. Spoke with them. He healed them
She writes:
"Jesus lived His life intentionally investing in others and I want to live my life the same way." 
Me too.
"I'm starting to believe that the walls and interruptions of life are where Jesus anchors us, where He hides the surprise…Every moment is a gift, even when it's disguised as an interruption."
Interruptions:  God surprises.
My dislike in interruptions melts away in the light of God's planning.
Inversion once again.
As I grow older, I let go of the constraints of false beliefs and shed the burden of heavy coverings to run free. I dance now and turn cartwheels with the Lord with His rules of the playground, not mine.
Sometimes it's called conversion. I like the idea of inversion.
Upside down. overturned, inside out and madly in love with the Lord.
Inversion.
"One cannot live the afternoon of life according to the program of life's morning; 
for what was great in the morning will be of little importance in the evening, 
and what in the morning was true will at evening have become a lie."
Carl Jung
As you grow older, what has changed within you?