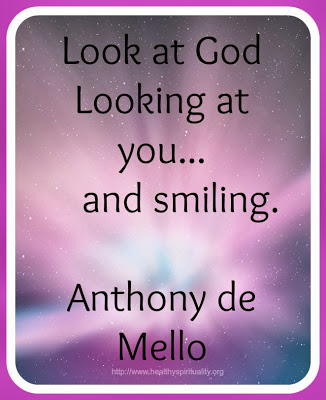 I was typing away the other day, lost in a world of words, punctuation and verb tenses.  My eyes left the screen momentarily, landing on a quote scribbled and taped to my desk.  I stopped and breathed in its wisdom,
"Look at God
Looking at you…
and smiling."
Anthony de Mello
I smiled. For one brief moment, God and I just sat together. Not doing. Not accomplishing. Just enjoying each other's company.
Today I sat back and looked at the wise words of others decorating (or cluttering) my writing space.  I thought I would share some of the wisdom with you that inspires me:
"If you chase two rabbits, you will not catch either one."
a Russian Proverb
"We must all suffer one of two things:
the pain of discipline
or the pain of regret and disappointment."
Jim Rohn
"Spare moments are the gold dust of time."
Bishop Hall
"Do what you should do,
when you should do it,
 whether you feel like it or not."
Thomas Huxley
"Prayer first:
 prayer before anything else
or there isn't anything else."
Ann Voskamp.
"To pray is to touch God and let God touch us."
Macrina Wiederkehr
"You say grace before meals
All right.
But I say grace before the concert and the opera,
and grace before the play and pantomime,
 and grace before I open a book,
and grace before sketching, painting,
swimming, fencing, boxing,
walking, playing dancing
and grace before I dip the pen in the ink."
G. K. Chesterton
Do you have a favorite quote that you keep near you for inspiration?