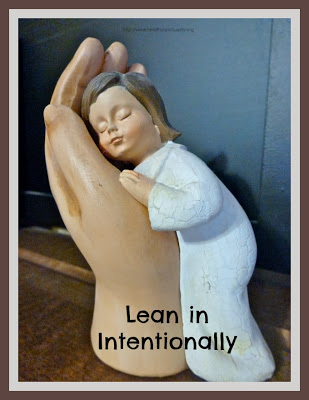 Ever have a word haunt you?
It peeks around the corner when you least expect it. Someone uses it in a sentence, a friend over coffee brings it up, then you read about this word in 14 gazillion blogs.

 
Like Sheldon on The Big Bang Theory who repeatedly knocks on his neighbor's door saying her name three times, sometimes a word beats over and over again on my heart.
Its voice is persistent and it lingers waiting for me to notice.
Sometimes the word isn't bolded, but hidden among other friends. It teases you, calls your name until you finally say, "ok what am I to learn about you?"
 

"Intentional" has tackled and seized my attention. What does this word mean and what is it telling me?
Intentional come from Latin meaning a stretching out, straining, exertion, effort; attention, to turn one's attention. The middle of the 14th century Old French word of

 

entencion implies "stretching, intensity, will, thought."

 

To many of us it means being deliberate.
Synonyms include conscious, intended, knowing, purposeful, set, voluntary and willful.

 

These certainly add a perspective to this lingering word.
Interesting the reference to a stretching out – Stretch is my word of the year. What a sense of humor God has to bring the word he gave me 11 months ago in a new way to rekindle my contemplation of that word this year.
I have facilitated several groups this fall discussing spiritual practices and one of my main points is to be intentional about nurturing our spirituality.

 
Spiritual practices don't force God to do anything. He is near us no matter what. He is in control, not what we do. But we can be intentionally in certain practices or spiritual habits to slow us down, to open our hearts more to God.
Intentional reminds me to stretch forth my hands towards God. To turn my attention to his words and love in my life. To lean in, relying only on him.
I bought this little statue pictured above in Germany in 2006.

 

This year she sits forefront on my desk, whispering lean in. Lean into me.

 

My spiritual director asked me months ago what did I think this meant. I am still learning, pondering, listening to this question but am realizing that leaning inward to God, I am vulnerable.

 

I have to rely on his strength, not my own and keep my balance by focusing on him.

 

 
Am I living intentionally? Pondering this word reminded me to reread my journal – I call it harvesting my journal – what a journey 2013 has been. And yes God has traveled with me, leading me, stretching me as I lean on him intentionally.
Maybe it isn't a word or one word, but The Word peeking around the corner and popping up in conversations. Maybe I am finally recognizing the true Big Bang Theory Creator knocking on the door of my heart, seeking my company. God's intentional, relentless, unconditional and unending love is calling.

  

Jeanie, lean in intentionally.
Have you even had a word haunt you? What did you learn?