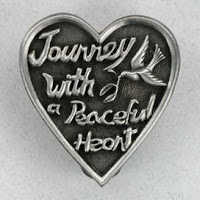 I didn't beat my children. I don't own a gun. I've never even been arrested.
But an article I read recently made me realize I have a violent heart.
The thought made me uncomfortable. As a
spiritual director
I have learned to be aware of the movements within my spirit and this concept of having a violent heart resonated deep within me.
What was God teaching me?
Marie Beha wrote "
Formation for Nonviolence
" in the spring 2003 issue of
Human Development
. She asked the question in the formation of non-violence where do we start?
Her answer is in the recognition that what goes on inside of us contributes to the culture of violence surrounding us.
Beha writes, "Violence isn't always noisy….How I respond to others, even to myself, reveals who and how I am. My morning might begin in violence as I smash the button of my ringing alarm clock, resentful of its shrill summons from still needed sleep. Getting into the shower and realizing I have forgotten my towel, I berate myself for being so stupid. At breakfast I discover an almost empty cereal box still on the shelf and express my frustration over someone's thoughtlessness. Even my hurried attempt at mouthing a Morning Offering can do violence to any real spirit of prayer…. Such low-level violence accompanies much of our living. It's like the background hum of a heater or air conditioner; we don't pay attention unless the disturbance reaches a certain threshold that sounds like trouble."
I don't think I have ever measured the degree of violence inside my heart before. Have you even thought of it from that perspective?
She writes, "Usually the focus is on me: my perceived right, needs, desires. My ego has been bruised and it is this that is protesting. Ninety-nine percent of the time, I eventually have to admit that I am reacting violently because I have fallen out of love…violence rises out of an ego that has shrunken to the size of self-preoccupation."
Beha's answer is love. Loving oneself enough not to let the negative self-talk persist and not to follow the Satan's lie that we are not beloved children of God.
Loving our neighbors as ourselves by taking a deep breath before responding and creating a space for God's grace to lead our response. Loving God enough to "
discipline ourselves to sit in silence before the Lord until some measure of peace is restored to our own soul and we can begin to respond in love. We keep our focus on God's mercy rather than our on ourselves and our own hurt and difficulty
."
I think it will take a lifetime to learn internal non-violence.
No wonder external non-violence is so hard.
But I do know the next time my internal voice speak to my heart in a derogatory manner or I fill up with a revengeful attitude towards someone
– I will think about the words –
internal non-violence
.
Awareness is the first step and focusing on reacting within the spirit of God's love, instead of my ego, will be my guide.
"
We may never be strong enough to be entirely nonviolent in thought, word and deed. But we must keep nonviolence as our goal and make strong progress towards it
."
Gandhi

"
Nonviolence means avoiding not only external physical violence but also internal violence of spirit. You not only refuse to shoot a man, but you refuse to hate him
."
Martin Luther King Jr.

What do you think about internal non-violence?