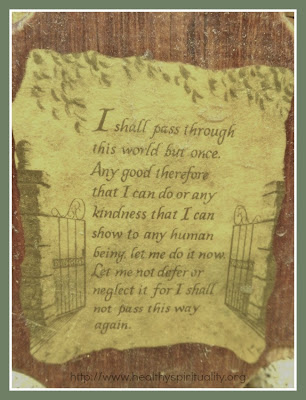 Kindness!  Emerging new diseases make the headlines all the time. As a former public health official, I read about them, dissecting them like Abby Sciuto in the NCIS lab.
Researchers have discover a new contagion and a surprising one too:
Researchers from the University of California, San Diego and Harvard found the first laboratory evidence that cooperative behavior is contagious and that it spreads from person to person to person. When people benefit from kindness they "pay it forward" by helping others, this creates a cascade of cooperation that influences dozens more.
Kindness begats more kindness. Soon a domino effect erupts in which one person's generosity spreads first to three people and then to the nine people that those three people interact with in the future, and then to still other individuals in subsequent waves.
"No act of kindness, no matter how small, is ever wasted." -Aesop
The dance craze Zumba has really taken over my rural community in northwest Ohio. One local lady became certified and began to offer the classes free of charge in her large barn. Now more have become instructors all leading classes at no cost.
They only ask for one thing:  pay it forward. This group brings in canned goods, supported families at Christmas and helped raise money for a family whose house burned. They give and keep on giving. They are practicing kindness.
All Kindness.
Kindness can be simply a smile or a touch.  A gentle word or unexpected act of compassion. I wrote about kindness before because I believe in its value.
Check out this post. 
On my kitchen sink window sill is a beat up plaque I have had for more than 40 years:
If there is any kindness I can show, or any good thing I can do to any fellow being,
let me do it now, and not defer or neglect it,
as I shall not pass this way again. 

I like what Sharon Salzberg says about kindness:
"Kindness is the fuel that helps us truly 'walk our talk' of love, a quality so easy to speak about or extol but often so hard to make real. It helps us to genuinely care for one another and for ourselves as well.
Kindness is the foundation of unselfconscious generosity, natural inclusivity, and an unfeigned integrity. When we are devoted to the development of kindness, it becomes our ready response, so that reacting from compassion, from caring, is not a question of giving ourselves a lecture: 'I don't really feel like it, but I'd better be helpful, or what would people think.'
When we are devoted to the development of kindness, we are no longer forcing ourselves into a mold we think we have to occupy; rather, it becomes a movement of the heart so deep and subtle that it is like a movement of the sea close to the ocean floor, all but hidden, yet affecting absolutely everything that happens above. That's the force of kindness."
Mother Teresa of Calcutta said: 
"Be the living expression of God's kindness — kindness in your face, kindness in your eyes, kindness in your smile, kindness in your warm greeting."
Kindness as a force.
Kindness as a contagious force for good.
Kindness as a living expression of God's kindness.
Katching Kindness – one spiritual practice I want to do more of in 2013.
Join me?