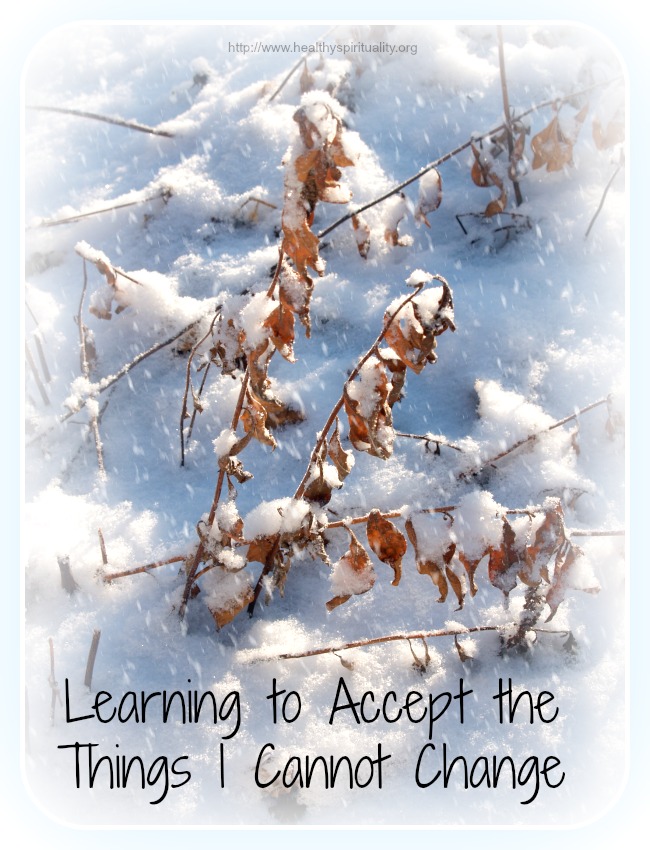 God grant me the serenity 
to accept the things I cannot change;

courage to change the things I can;
 and wisdom to know the difference.
–Reinhold Niebuhr
Many of us take comfort in reciting the Serenity Prayer, especially the line about accepting the things I cannot change.
But doggone it, accepting those unchangeable facts of life are difficult.
I don't like it. I feel powerless. Frustrated. Discouraged. Even angry.
Give me a few days of whining, withdrawing into my self-pity and wailing against the world, THEN just maybe I'll come around with resigning myself to not controlling everything that happens to me.
I studied this prayer this past weekend and journaled about winter. I hate winter. Northern Ohio is experiencing a nasty, cold and snowy season this year. And guess what? I can't control it nor change it.
The way our family is and how life has unfolded, Ohio has been and will continue to be my home. I guess I need to make friends with this miserable time of year. Why waste a full season by griping?
I began to wonder if God was inviting me to learn something about acceptance as I endued my least favorite time of year. I stepped back and explored winter.
Changing My Point of View
One lesson I've noticed is winter represented a nuisance interruption. Who dares to take away my colorful flowers in my garden, early sunrises and late sunsets and the warm gentle breezes? I like driving on dry predictable pavement – not icy slushy and drifting highways.
Winter is inconvenient.
I realized I was looking for the easy path, the smooth journey, the "don't bother me I am  going my own way" trip.
Duh, life isn't that way.
My attitude is all wrong when viewing winter and perhaps anything we face in life that we cannot change. Instead of an untimely intrusion, I could consider this interlude as a time of adventure or exploration. After all God did create winter and he certainly wouldn't waste a season for no reason.
G. K. Chesterton once wrote,
"An adventure is only an inconvenience rightly considered. An inconvenience is only an adventure wrongly considered."
Finding Wonders in Winter
This writing from Joyce Rupp particularly struck me:
"One winter morning I awoke to see magnificent lines of frost stretching across my window panes.
They seemed to rise with the sunshine and the bitter cold outside.
They looked like little miracles that had been formed in the dark of night.
 I watched them in sheer amazement and marveled that such beautiful forms could be born during such a winter-cold night. 
Yet, as I pondered them I thought of how life is so like that.
We live our long, worn days in the shadows, in what often feels like barren, cold winter, so unaware of the miracles that are being created in our spirits.
It takes the sudden daylight, some unexpected surprise of life, to cause our gaze to look upon a simple, stunning growth that has happened quietly inside us.
Like frost designs on a winter window, they bring us beyond life's fragmentation and remind us that we are not nearly as lost as we thought we were, that all the time we thought we were dead inside, beautiful things were being born in us." 
Taking the time to see the beauty and wonder of winter increases my joy and appreciation of the season. Perhaps seeking beauty in the chaos of change and hope in the impossible will give me the energy to rise above difficulties. God fills every season with his message of love and his ever constant presence.
Purpose of Fallow Time
I see the skeletons of barren trees and the fallow fields. There is purpose in this time of rest. Times to push my roots deeper for more nourishment so I can produce fruits later in the season. Times to fill, learn, relax and savor.  Time to let go and accept. 
The time of fallowness is a time of rest, restoration, of filling up and replenishing.
 It is the moment when the meaning of all things can be searched out, tracked down, made to yield the secret of living.
Thank God for the fallow time!"
—Howard Thurman 
Winter gives us examples in its raw beauty and uncontrollable weather. I am learning to open my clutched fists and receive its gifts more willingly -just one small step towards accepting things I cannot change – probably a lifelong lesson.
What helps you accept what you cannot change?