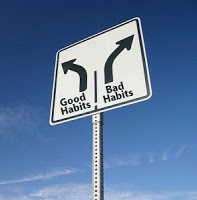 "Ah-Choo!"
Yesterday the lady in the pew in front of me sneezed. I watched her automatically cover her reaction by sneezing into the bend of her arm.
Coughing into our sleeves has become the acceptable and proper way to sneeze. A proven way to control the spread of disease.
Doesn't it seem like just yesterday we were all sneezing and coughing into our hands? How did we switch to this better alternative so quickly?
Why are some good habits adopted faster than others?
Why can't I consistently exercise and eat healthy as easily as I have learned to cough into my sleeve?
I have lots of questions and not too many answers, but this got me thinking about habits. Actually I spend some time reading and researching interesting facts about habits.
A New York Times article, based upon the research by Andy Ryan says:
"Rather than dismissing ourselves as unchangeable creatures of habit, we can instead direct our own change by consciously developing new habits. In fact, the more new things we try — the more we step outside our comfort zone — the more inherently creative we become, both in the workplace and in our personal lives.
But don't bother trying to kill off old habits; once those ruts of procedure are worn into the hippocampus, they're there to stay. Instead, the new habits we deliberately ingrain into ourselves create parallel pathways that can bypass those old roads."
Mark Twain wrote, "Habit is habit, and not to be flung out of the window by any man, but coaxed downstairs a step at a time."
In my readings I found that the popular belief of it takes 21-30 days to adopt a habit is a myth. The length of time depends on who's trying and what they are trying to do. The time range varies from 18-254 days. However, on average it took 66 days to make a habit stick.  The same study found that if you miss a day here or there, it does not affect the habit-forming process. Most important is the ability to keep going, even if you hit a setback or return to the unwanted habit.
Did coughing in our sleeves catch on because it affects others beside myself? If so, shouldn't fastening your seatbelt, not drinking and driving, and driving the speed limit do the same? 
Was it society's amount of positive reinforcement to cough into our sleeves that this habit took off with lightening speed?
 A positive peer pressure?
Do you think one simple movement is easier to adopt than a more complex one? Could that be a reason?
Some habits get well established when a trigger is identified. A trigger is an event that will kick off that automatic urge to do a habit. Habits become automatic after we've created a bond between the trigger and the habit — the stronger the bond, the more ingrained the habit.
A sneeze is definitely a trigger.
Our spiritual walk can be filled with wonderful healthy habits, such praying, bible study, contemplation, and serving others. Maybe the spiritual habits I want to develop more consistently need more triggers?
A lady sneezed and instead of spreading germs, she stretched my curiosity about habits.
What good habits would you like to develop? Why do you think some habits are more difficult than others?  Good topic to discuss and share.