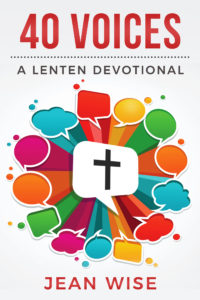 Lent, one of my favorite listening to God seasons, begins with Ash Wednesday, Feb 22.
Lent is the season before Easter lasting 40 days, not counting Sundays. It is a time to reflect and remember our relationship with God. This time presents an opportunity for us to focus and draw closer to our Lord.
One Lenten practice is to read a particular book/devotional during the season. There are many great ones available, even one written by me a few years ago.  40 Voices – A Lenten Devotional captures the words and settings surrounding Jesus the final week of his human life. We hear  the stories with new insights for us today and showing us the transformational power of the cross.  
Each devotion ends with an image, a question, and a prayer.
Here is an excerpt from one chapter:
"Hosanna!

Not the most common word in our everyday language. I have said it during church services and sung it in hymns. I've read it in the Bible and heard it proclaimed on Easter morning. I assumed saying Hosanna praised the Lord and declared his glory. But I was wrong.

Hosanna differs unexpectantly in its meaning. This word originates from Psalm 118, verse 25 and is a cry to God for help. Hosanna expresses intense emotion imploring God to save us and save us now.

When the people waved their palm leaves and laid their coats on the path before Jesus as he rode into Jerusalem, they were asking him to save them. "O Son of David, save us." Their shouts were cries for hope Jesus would free them from the tyranny of the Romans.

The Jewish people waited for centuries for the Messiah to rescue them and perhaps this man called Jesus was just the person to do the task they wanted.

They only saw their immediate need, while God has a much bigger plan in motion.

When I am stuck in the deep hole of discouragement and disappointment, I never imagine yelling, "Hosanna." My prayers for protection from fear and failure never voice this word either. When hurt drags you down and you feel lost and scared, is your response hosanna?

To me hosanna means praise. The word reminds me to keep my eyes on Jesus, my hope, anchor, and savior. I call out to the Provider, not to my problem.

Now that I know the meaning of this word, saying hosanna becomes an appropriate response to any difficult time and dark place. Hosanna gives hope, joy, and help.

We are like those people lining the road on that Palm Sunday so many years ago. We cry for Jesus' help for our immediate need, failing to see God's bigger plan. Praise God in these times.

Hosanna!"
Lent is a time of transformation. Letting go. Drawing closer to God. It is a time for becoming intentional in our faith practices and a time of preparation, as we get ready to meet the Risen Christ.
May this season of Lent drench you with blessings as you remember you are a loved child of God.
May this season of Lent stretch you out of your comfort zone and wake you up from your complacency.
May this season of Lent seal your brokenness with God's healing and tender love.
And may this season of Lent open new worlds for you to explore and find God waiting for you.
How will you experience God during Lent?