Do you have a favorite Bible Story? One that draws you back to read and read again?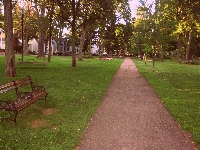 The story of the two disciples on the road to Emmaus after Christ's crucifixion is one story that I continually discover new insights that touch my heart and feed my soul. Often when I don't know what to read I meditate on my favorites verses to guide my path.
Oswald Chambers
used a verse from this passage in
My Utmost for His Highest

on the February 7 entry:
"But we had hoped that he was the one who was going to redeem Israel. And what is more, it is the third day since all this took place." Luke 24:21
Chambers writes, "
Spiritual lust causes me to demand an answer from God instead of seeking God Himself who gives the answer…The purpose of prayer is that we get a hold of God, not the answer…If we will only obey and do the task that He has placed closest to us, we will see Him
."
Chambers asks us what have we been praying for, expecting an answer from God? Is today the 'third day" and God still has not done what I have expected Him to do?
Convicting questions, aren't they?
I have recently whined to God about my thirst to grow in devotion to Him and my lack of clarity on how to do this.
Three days? Try three years I have been praying about this. What have I learned?
Chambers is so right:
I am to focus on God, not the answer and to do what He has placed in front of me for my next step and not worry about the end results.
The disciples on the road to Emmaus experienced God, not all the answers to their prayers.
On my road to Emmaus, I chose to focus on God too, not the answers.
This is not easy as I slip back into old patterns of wanting to control the outcomes in MY timing. But once again, God's Word gently prods me back onto His path.
Do you have a favorite Bible verse that keeps you on the right path? 
P. S.  I just realized that this is my 300th post for Healthy Spirituality. Please invite others to check this blog out and subscribe if they wish.  Thank you for reading this and walking with my on this journey.