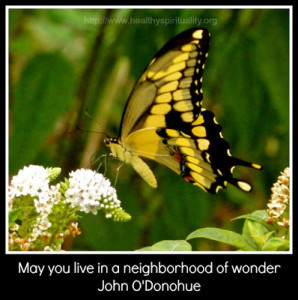 What are the lessons in wonder? Who inspires you to wonder?
In September on Healthy Spirituality, we explored the practice of wonder. Many creations of God inspire me and I am sure move you too.
I wanted to feature a person who wondered, whose creativity encouraged others to wonder. When writing about the Hobbits last week, naturally I thought JRR Tolkien.
Who was Tolkien?
I had to look up to discover what JRR stood for: John Ronald Reuel. You can impress your friends by knowing that!
Tolkien was born in South Africa in 1892 and came to England after his father died at the age of four.
As an adult he was a professor of English at Oxford where he became friends with another creative, C.S. Lewis.
A devout Catholic, Tolkien's friendship with Lewis, an agnostic, eventually brought Lewis into the faith. Besides faith, these two liked to debate the worthiness of fairy tales and imaginative storytelling. Tolkien believed in their value, stating, "The imagined beings have their inside on the outside; they are visible souls. And Man as a whole, Man pitted against the Universe, have we seen him at all till we see that he is like a hero in a fairy tale?" 
Tolkien gave lectures on fairytales and described them as a way to lead the reader away from their present way of seeing the world and to rethink their true calling. Being lost in a world of wonder, gave the reader a chance to peek into the real underneath appearances "perhaps for the first time."
The father of four children, Tolkien loved to tell them stories. He even wrote illustrated letters from Santa Clause for them. The Hobbit was initially thought of as a children book, but he would later tell others that he didn't originally write the story for children.
"We have come from God and inevitably the myths woven by us, though they contain error, will also reflect a splintered fragment of the true light, the eternal truth that is with God. Indeed, only by myth-making, only by becoming a "sub-creator" and inventing stories, can Man ascribe to the state of perfection that he knew before the fall."
J.R.R. Tolkien
Lessons in Wonder from Tolkien
What does Tolkien teach us about wonder?
Adults still can wonder like a child. We are invited into a lifelong learning and leaping into wonder. Don't let it stop as we age. We miss so much by putting on our adult airs and ego driven ways.
The invitation to wonder surround us. We need to look, pay attention, and seek wonder.  At first Tolkien did not set out to write novels based on a complex, layered imagination. One day he simply read the phrase "Middle Earth" in an ancient English manuscript and it inspired a poem. From that seed sprung an adventure we continue to read today.
We all can tap into the Creator of Wonder. Tolkien was a man of faith. In a personal letter he described his writing process: "The Other Power [God] then took over: the Writer of the Story (by which I do not mean myself), 'that one ever-present Person who is never absent …'"
Wonder can't always be rushed. Wonder often takes us onto long winding detours. A time to savor and explore. He took years to write the Lord of the Rings and create a world amazingly complex, rich, and full of wonder.
Let Go. Leap into Wonder. Wonder is a place of no words and beyond anything we experienced before. "Lost in wonder" is no mere expression. Wonder is perhaps best experienced unattached to our bearings and control. We look around and explore the mystery with a bewildered eye. We cross the threshold, entranced in a place we've never been before or even imagined existed.
Could fully being absorbed into wonder, be heaven?
"The others cast themselves down upon the fragrant grass, but Frodo stood awhile still lost in wonder. It seemed to him that he had stepped through a high window that looked on a vanished world. A light was upon it for which his language had no name. All that he saw was shapely, but the shapes seemed at once clear-cut, as if they had been first conceived and drawn at the uncovering of his eyes, and ancient as if they had endured forever. He saw no colours but those he knew, gold and white and blue and green, but they were fresh and poignant, as if he had at that moment first perceived them and made for them names new and wonderful. In winter here no heart could mourn for summer or for spring. No blemish or sickness or deformity could be seen in anything that grew upon the earth. On the land of Lórien there was no stain."
The Lord of the Rings
Tolkien inspires me to wonder. To take the risk and venture into unknown places. To allow myself the joy of not watching the clock. To behold the "Real" beneath the appearances.
Wonder delights.
Wonder invites.
Wonder leads me to worship.
Wonder invokes gratitude.
Wonder reminds me there is always more, More.
Wonder is a powerful spiritual practice.
"All that is gold does not glitter,
Not all those who wander are lost;
The old that is strong does not wither,
Deep roots are not reached by the frost."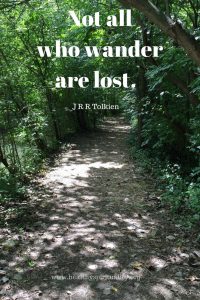 Who inspires you to wonder?