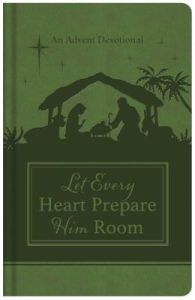 November 30 is the first Sunday of Advent. How will you prepare your heart for this special season this year?
The word "Advent" comes from the Latin word adventus, which means "coming" or "visit."
Advent is the four weeks before Christmas when we look with hope and anticipation for the coming Christ Child.
This time of year can be hectic, full of family drama, and preoccupations with both comforting and/or sad memories. Yet many of us want to take some time to ponder the true reason for the season and spend time with God.
Advent is a wonderful opportunity to be open to prayer to shape our spirit this season.
"Advent, like its cousin Lent, is a season for prayer and reformation of our hearts. Since it comes at winter time, fire is a fitting sign to help us celebrate Advent.If Christ is to come more fully into our lives this Christmas, if God is to become really incarnate for us, then fire will have to be present in our prayer. Our worship and devotion will have to stoke the kind of fire in our souls that can truly change our hearts. Ours is a great responsibility not to waste this Advent time."
Edward Hays
How can we best prepare our hearts and minds for Advent? Here are a few suggestions:
Read – Find a good devotional to read during the four weeks before Christmas. There are many of the market but I would be remiss not to mention the one I wrote that was published just this year. Let Every Heart Prepare Him Room – an Advent Devotional is available on Amazon, Barnes and Noble and one friend told me she even saw it at Walmart. It contains 28 devotionals, quotations, prayers and practical tips for simplifying the Christmas season. I pray it blesses your Advent.
Ponder – Breath in Advent quotes – maybe a special quote or reading once a day. Here is a link to one of my popular blog posts listing some great posts.
Write – create a prayer each day in your journal about your hopes, joys, and beliefs. Write down a daily blessing you gave and one you received. What are your expectations for the coming seasons? Are they clear, realistic, compassionate towards yourself and others? Rewrite in your own words the stories of Jesus's birth.
Pray – Read the words of favorite Christmas carols – Don't sing them. Slowly drink in their message and offer them back to God.
Watch – Pay attention to the unexpected; the God's surprises that tiptoe into the edges of our lives. They are hard to catch but embrace them and hold them dear.
Listen – Spend some time in quiet and listen for God. He is waiting – just we wait for the Christ Child – he waits for us. Prepare him a space – a room in the inn of your heart.
Think you are too busy to prepare your heart for Advent? Just decide on one small step – one small morsel to offer to God. He will take even the tiniest thought, moment, and prayer and treasure it in his heart.
"Do not wait until the conditions are perfect to begin. Beginning makes the conditions perfect." ~Alan Cohen
"The house lights go off and the footlights come on. Even the chattiest stop chattering as they wait in darkness for the curtain to rise. In the orchestra pit, the violin bows are poised. The conductor has raised his baton. In the silence of a midwinter dusk, there is far off in the deeps of it somewhere a sound so faint that for all you can tell it may be only the sound of the silence itself. You hold your breath to listen. You walk up the steps to the front door. The empty windows at either side of it tell you nothing, or almost nothing. For a second you catch a whiff of some fragrance that reminds you of a place you've never been and a time you have no words for. You are aware of the beating of your heart…The extraordinary thing that is about to happen is matched only by the extraordinary moment just before it happens. Advent is the name of that moment."


— Frederick Buechner
I wrote this a few years ago:
RIGHT NOW – the manger, composed of ordinary straw and hay,
waits,
empty and open,
for the gift of Life.
RIGHT NOW – bird nests lie high in barren trees, composed of ordinary twigs and mud,
wait,
empty and open,
for the gift of life.
RIGHT NOW – my heart, full of ordinary clutter, noise, to do lists, worries and pride,
like no room in Bethlehem,
my heart has no room for You.
So I slow down this Advent season and let go of what blocks me from You
And wait,
empty and open,
For the extraordinary and
astonishing gift of Life.
RIGHT NOW – I prepare my heart for You
Waiting
to be filled by You,
Waiting
to be filled with You.
Advent blessings!!
My latest book released in 2016 is called Christmas Seasonings, 101 Quotes and Prayers to Flavor the Holidays.  Check it out:
How will you prepare your heart this season?