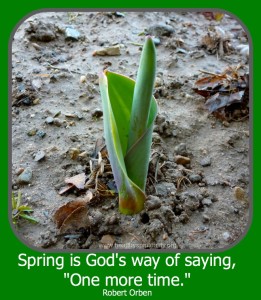 Dear Spring,
Welcome back. You were sorely missed, especially after the tough winter we had in the Midwest. I am empty from this past chilly time of year and yearn to see the world come alive.
I know you aren't fully here yet, but I see you tease me of your arrival as you drop hints of your slow emergence.
You are my favorite time of year. I learn so much from all the seasons, but find hope when I spend time with you.
When you come, I am reminded of the rhythm of life – the seasons change and sometimes are rough, but the cycle of birth and life and death continues. Rain replaces snow and washes away the dirt of winter. Spring reminds me that I am resilient, I can be courageous and even the depth of a cold hard winter, life does go on eventually. Where do I need to be less afraid and take risk right now?
I love your light – days gradually lengthening like sleepy Saturday morning when we don't have to jump out of bed right away. No alarm. Just a stretching yawning of a new day, a fresh season. A warm gradual reawakening of the world and the flowering of my soul. The stirring of new opportunities await my exploration. Where will your light lead me this year?
New growth pops up everywhere; I almost can hear the earth groan as the harden ground fractures to create space for you. Plants long asleep, ascend, reaching to the sun, give me hope that my dreams too will someday break through. Tightly woven buds on the tips of the branches slowly unfold in greenness, bright yellows and erupting reds. You are the cry of a newborn and the vibrancy of new life swaddled up into one season. What needs reborn within me?
Soon I will head out to the garden and remove the dead limbs and broken stems from last year to make room for the green of 2014. I will go through my house and sort out the old and sweep up the smudges of winter. The process reminds me to shower my soul too in God's love and forgiveness, rinsing the dirt of doubt away and letting go of what is no longer useful. What do I need to let go?
Spring, in you I hear, "Play ball!" Your gentle breezes invite me to smile, to try once again and to savor your wonder. I want to dance in your puddles and listen to the birds sing with delight. My level of energy soars, holy curiosity abounds and I find hope and promise in you. Death is no more – life is here. This is the season of resurrection. Where will I see the dance and joy?
Lord, these are the lessons I learn and relearn each year with spring. As I write these words, I know deep down, this letter is written to you, not some distinct passage of time. Thank you for this gift of the earth's lessons as she rouses from sleep. Thank you for the rebirth of the world and the spirit within. I embrace your beauty; its splendor enfolds me.
You, Divine Creator of all seasons, are spring. You are hope. You are life. Birth your vision within me, Lord and surprise me with the refreshing hope. Awaken my dormancy and bless my growing in this celebration of spring. Water me with your renewing showers of faith, hope and love.
And I am grateful to see glimpses of your glory once again.
What does spring teach you?