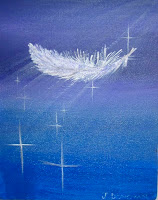 Ma'at, the Egyptian goddess of justice, truth and order, was always depicted wearing a white ostrich feather in her hair. The Egyptians believed that when they died they would enter the underworld or the Hall of the Dead where Ma'at would weigh their hearts against the weight of a feather to determine the worthiness of his or her soul.
If the heart was free from the impurities of sin, and therefore lighter than the feather, then the dead person could enter the eternal afterlife. A heart could be made light as a feather by lifetime of kind deeds, love and care for the needed.
Makes the expression – "l
ighten up
"- take on new meaning, doesn't it?
My heart has been heavy lately – full of hurts, anger, and resentments. Reading this story reminded me it was time to lighten up my heart.
Time to replace my negative emotions for more Christlike characteristics of kindness, gentleness, and love.
Being able to find an image to describe a problem or situation I face helps me let go and become more open to where the Spirit is leading me. I think visualizing a concern or even a joy creates a concrete and tangible symbol instead of feeling lost in the foggy aftermath of churning emotions.
Imagery can be a powerful spiritual discipline.
Hildegard of Bingen
wrote, "T
hus am I, a feather on the breath of God
."
May I live each day with a light heart responding only to God's breath.