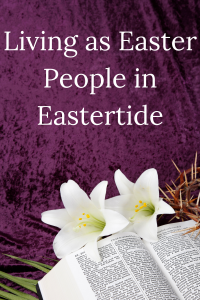 Eastertide is living as Easter people every day, not just on Easter Sunday, but as a way of life.
In our local church, we start each worship service these next few weeks with this greeting:
Christ is risen! He is risen indeed!
Our traditional Easter greeting. April brings Easter and don't forget Easter isn't celebrating just one day but a full season.
In the church calendar, the season of Easter runs for 50 days from sunset on the eve of Easter Day until Pentecost. This year this means we will greet each other from Sunday April 4 until Sunday, May 23. This a seven-week season of the church year is also called Eastertide.
Eastertide is the time of new life. We see this reflected as spring bursts with buds, flowers, and nests full of eggs. We hear it in our music. The sun shines longer each day. My spirit lifts in this light and in the Light of New Life.
Extending this season gives us time to rejoice and experience what it means when we say Christ is risen. It's the season when we remember our baptisms and God's grace. As "Easter people," we celebrate and ponder the birth of the Church and gifts of the Spirit (Pentecost), and how we are to live as faithful disciples of Christ. As Easter people we know death has no power over us.
How will you grow and live in Eastertide? Here are a few ideas:
Light a white candle during your meals representing Christ as our light.
Read the Easter story found in Matthew 28; Mark 16; Luke 24; and John 20-21.
Greet one another with the Easter greeting.
Decorate a cross with flowers.
Choose a local charity and give a special gift.
Visit a lonely neighbor or do some other family act of kindness to express thanks for the resurrection.
Talk about baptism. Tell stories of family members' baptisms.
Make cookies in the shapes of Easter symbols. Give some away. Freeze some to serve throughout the season.
Wear more white, or even gold! These the season's special colors.
Just before his ascension, Jesus blessed the disciples. Pray Numbers 6:24-26 together as a way of communicating his blessing to one another.
Take some time to consider what Jesus' death on the cross means to you. Encourage other family members to do the same.
Many in the world don't live as Easter people in Eastertide. Their journey is barren, frightful and often without much hope. We can witness to them with courage, generosity, compassion, and always pointing the way to Jesus. We dare to live as Christ lives with love always as our compass. We are the body of Christ serving others hungering for More. This is the path for Easter people.
Christ is risen! He is risen indeed.
How will you live in Eastertide as an Easter person?