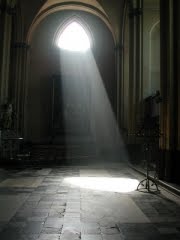 "
Each moment is a revelation of God
."
Jean-Pierre de Caussade

"Be joyful always; pray continually; give thanks in all circumstances, for this is God's will for you in Christ Jesus". – 1 Thessalonians 5:16-18
The phrase
pray continually
beckons my heart. Living each moment in the presence of God is a deep hunger within me.
Surveying my shelves this week, I discovered quite a few books discussing this spiritual practice and realized once again just how God is inviting me to dwell with him in every moment – even the ordinary ones throughout my day.
Wow – isn't that just amazing? God – in all His glory, majesty, power, wisdom – desires to spend time with little ol' me. With all of us! And not just an occasionally fleeting visit or an hour on Sunday, but every minute, second, and nanosecond.
Gregory Boyd
wrote a book I read this week:
Present Perfect – Finding God in the Now

– that relit this desire within my heart. (See review below and be sure to leave a comment because I will be giving away a copy of this book)
How can we live each moment in God's presence?
I began by praying and journaling my desire to be open to God's presence more often throughout the day.
As I am on the computer frequently, I downloaded a screen saver "alarm clock" that gently reminds me every 15 minutes to pause, take a deep breath and spend a moment with God.
I took from my bookshelves and am rereading what others have written about this practice. Suggested readings include the book I review below plus
Practicing the Presence of God

by Brother Lawrence and
Sacrament of the Present Moment

by Jean Pierre de Caussade
I am trying several suggestions from the
Present Perfect
book: such as strategically placed reminders and asking God more often, "what should we do?"
What have I discovered in my brief experiment?
·

     
My image of God has changed slightly – or should I say God's position (Or mine? – that is another whole thought…) Where before God was in front of me as I spoke and occasionally tried to listen – now he is beside me.
He looks over my to do list next to me as a companion, not someone in authority I am presenting my agenda to.
·

     
I smile more often.
This simple practice reflects joy.
·

     
When I ask: What should we do?
My heart gently beats "peace" as I sense my priorities are in order
·

     
I don't feel alone. The world can be tough even when we have friends and loved ones supporting us.
·

     
I don't necessarily "feel" something every time, yet know He is with me
·

     
This morning I felt challenged.
The quiet still voice of God simply reminded me there will be times I will have to let go of my ego and let Him shine – much easier said than done.
Quotes to ponder:
If you should forget Him for minutes or even days, do not groan or repent, but begin anew with a smile. Every minute can be a fresh beginning
.
Frank Laubach

So begin…make that resolution, now!

 

Be daring. None of us have a long time to live…what years we have, let us live them with God

. Brother Lawrence.
All he wishes is to be the sole object and only enchantment of our hearts – de Caussade
As I continue to grow in this practice I will update you on the lessons I am learning.
I invite you to read about this spiritual discipline and let me know how it deepens your walk with God.
What helps you to be aware of God's presence?
Book Review: Present Perfect: Finding God in the Now by Gregory A. Boyd
Are you awake? Present Perfect invites the reader live in the present moment with God. He begins with a quote from Frank Laubach, " Can I bring the Lord back into my mind flow every few seconds so that God shall always be in my mind? I choose to make the rest of my life an experiment in answering this question."
Boyd writes clearly and when I finished the book I was inspired to dive into this experience. His chapters are filled with motivating quotes, personal examples, and every few pages there is the appearance of a sticky note asking, "Are you awake?" to remind the reader to be fully aware of the present moment.
Clever idea.
Every chapter ends with ideas or exercises to try. Examples include waking up to God and strategically placed reminders. One exercise I particularly like is thinking in the terms of "we". Frank Laubach suggests instead of talking to ourselves, talk to Christ. Make all of thoughts a conversation with Him. Instead of thinking "What should I do? " Use the phrase, "What should WE do?"
Interesting to note is his addition of a chapter at the end of the book about practicing the present and the new age movement.
Good food for thought and discussion in this chapter.
Gregory A. Boyd is the founder and senior pastor of Woodland Hills Church in St. Paul, Minn., and founder and president of Christus Victor Ministries. He was a professor of theology at Bethel College (St. Paul, Minn.) for sixteen years where he continues to serve as an Adjunct Professor. Greg is a graduate of the University of Minnesota (BA), Yale Divinity School (M.Div), and Princeton Theological Seminary (PhD).
If you are seeking a closer relationship with God, I highly recommend this book. One of the best I have read lately and one I could take nuggets from and apply right away to my spiritual walk.
Disclaimer: I received this book as part of a blog tour.
Contest:

 

I have a copy to Present Perfect to give away. I will draw a name from random from the comments made on this post on Sunday May 9, 2010 at 5:00 P, M. eastern time.

 

You must live in the United States or Canada to be eligible for this prize.