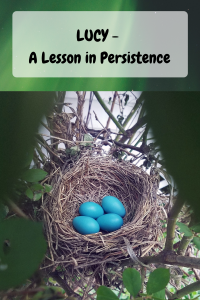 We call her Lucy.
Lucy is a young robin who decided to build a nest on top of one of our backyard outdoor speakers. The good news is the speaker is tucked up high under the eaves, providing protection from the elements. The bad news? The flat space on the top of the speaker is narrow, about a 6-7-inch square.
Every day she brought twigs, willowy branches, and yard waste to the speaker.
Every day the nest fell apart by day's end.
Fragments of her failed fiasco splattered in ruins across our porch. Every day.
My hubby and I fretted about Lucy. Was she too young to know what she was doing? Do robins learn to make nests from their parents and somehow Lucy never got that education?  Bill worried she would still lay eggs there resulting in their rolling off the speaker dropping 6 feet to their destruction. Lucy was definitely deficient in nest construction skill and experience.
Every day Lucy began once again.
Every day the nest fell apart by day's end.
We researched information about robins trying to find a way to help her. Someone suggested we go to Hobby Lobby and purchased an artificial nest to offer her. We had no answers to her ongoing dilemma.
Palm Sunday was busy for us. Starting with church worship then seeing Les Mis, one of my favorite musicals. We didn't come home till late afternoon. I walked back to my office, past the window by the speaker and there it was: A completed, well-formed nest!
Lucy got it done. Finally, she succeeded.  We whooped and danced and hugged each other like one of our own kids just won a major competition.  Way to go, Lucy!
Persistence.
We didn't need to teach Lucy; she taught us.
Keep going. Practice. Persistence.
You may encounter many defeats, but you must not be defeated. In fact, it may be necessary to encounter the defeats, so you can know who you are, what you can rise from, how you can still come out of it.
Maya Angelou
******
By perseverance, the snail reached the ark.
Charles Spurgeon
*******
Nothing in the world can take the place of persistence. Talent will not; nothing is more common than unsuccessful men with talent. Genius will not; unrewarded genius is almost a proverb. Education will not; the world is full of educated derelicts. Persistence and determination alone are omnipotent. The slogan Press On! has solved and always will solve the problems of the human race.
Calvin Coolidge
******
I will persist until I succeed. Always will I take another step. If that is of no avail I will take another, and yet another. In truth, one step at a time is not too difficult. I know that small attempts, repeated, will complete any undertaking.
Og Mandino
******
A failure is not always a mistake. It may simply be the best one can do under the circumstances. The real mistake is to stop trying.
B. F. Skinner
******
Therefore, since we are surrounded by so great a cloud of witnesses, let us also lay aside every weight, and sin which clings so closely, and let us run with endurance the race that is set before us.
Hebrews 12:1
Lucy now sits in her nest every day. We assume the nest holds her eggs and we anxiously await new life soon.
I think Lucy will do fine as a mother. She will figure out any challenge she and her babies face, modeling persistence in each step.  This is one lesson I know I won't forget either.
Where have you seen persistence lately?