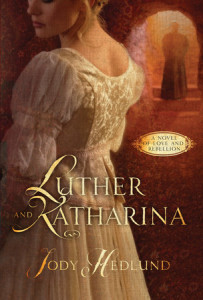 I love a book with a strong female lead. And when the story is partially based on history, the reading becomes more intriguing. A great read for the upcoming 500th anniversary of the Reformation.
Luther and Katharina – a Novel of Love and Rebellion by Jody Hedlund tells the story of Martin Luther and Katharina von Bora's relationship and then marriage. This fast read swept me quickly into the 1500s dark history of war, reformation, courage, and turmoil.
This is a love story more than a history book. I kept wondering as I read it what was true and what was the author's imagination. Hedlund clarified that in the author's notes in the back of the book which as I reader I appreciated knowing.
To be honest, I am a non-fiction reader and rarely read or enjoy fiction books. So it is quite an accomplishment to have a novel keep my attention from the start and draw me into the story with great dialog and description like this book did. The story captivated me and made me curious about the actual facts.
If you like historical romance novels, I think you will like this book. If you are looking for stricter history, this may not be for you. I received this book from Blogging for Books for this review but was under no obligation to give a good report.
What good books have you read lately?