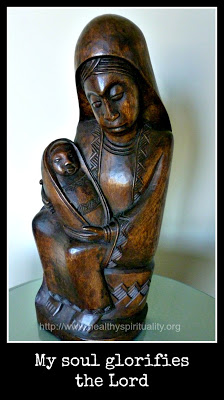 "My soul glorifies the Lord
and my spirit rejoices in God my Savior,
for he has been mindful of the humble state of his servant.
From now on all generations will call me blessed,
for the Mighty One has done great things for me—
holy is his name.
His mercy extends to those who fear him, from generation to generation.
He has performed mighty deeds with his arm; he has scattered those who are proud in their inmost thoughts.
He has brought down rulers from their thrones
 but has lifted up the humble.
He has filled the hungry with good things but has sent the rich away empty.
He has helped his servant Israel, remembering to be merciful
to Abraham and his descendants forever, just as he promised our ancestors."
I am so ashamed, Lord. Please forgive me.
The majority of my prayers begin with "I."
The focus is me – what I want, what I think I need, what I demand.  Often giving You orders instead of humbly reporting to duty.
Even the prayers for others drip with ego.
In this prayer above, Lord, Mary turns hers and our eyes towards You.
She could have asked for something for herself. Who could have blamed her in her condition?
Even when she mentions herself – My soul, my spirit – her words reflect You.
You are the Courage and Strength of all.
Your Glory rules everywhere, in every time and in everyone.