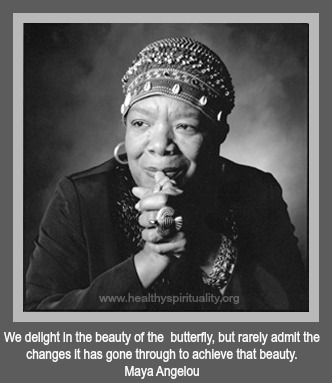 The world lost some wisdom last week. Maya Angelou died.
I want to become a wisdom gatherer. I love to interview people who can speak/write about their experiences in a reflective and universal way. They have nuggets of knowledge, perception, and hope for the rest of us struggling souls.
They are the Mayas of the world. The mentors we all hunger for – the astute Ammas and the insightful sages.
Glennon Melton wrote about this in Huffington Post last week in an article well worth reading called "Find Yourself a Maya."
She concludes:
"Join the procession. Find yourself a Maya to follow and Be a Maya to the woman marching behind you.
'When you learn, teach.'
That's how Maya taught us to keep our mighty, sacred sisterhood rolling on.
And while you march, remember: 'You are a child of God. Stand up straight.' — Dr. Maya Angelou"
When our Texan friends visited last week, we drove them about an hour from here so Kathy could visit with her childhood friend. When we arrived at her friend's house, another older lady was present. As her older friend talked, she weaved tales brimming of wisdom and humor. The more she shared about her life, the more I realized I was listening to a lady of vision. I was in the presence of a "Maya."
This interaction made me even more hunger to interview women of wisdom and to discover their gems of knowledge. Just think of the people throughout history and from contemporary times, who would be wonderful resources and fountains of knowledge.
How do we find these mentors? What are their secrets? Their skills? Their attitudes? How has faith shaped their lives? Who helped them?
Maya and mentors – all called to me last week and I am going to seek the answer.
Who would you like to meet and talk to in your search for wisdom and understanding?