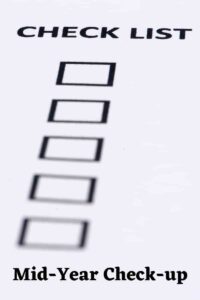 We have hit the mid-year point in 2023 – time for a check-up. Maybe a better word would be check-in as in assessing your inner self where are you, where you wanted to be, and where you are heading.
Many of our yearly goals have long disappeared and lie in a pile of "I'll get to that later" and "I know at the end of the year, I will regret not at least trying." But I am a goal setter and do attempt to grow and accomplish what I set out to do. Guess it's my nature or my paranoia. HA!
But the end of June issues an invitation to each of us to pause and take a look. To evaluate and possibly realign our trajectory for the rest of 2023. To celebrate, adjust, forgive, and move forward with life.
Goal Check-Up
Yes I am strange when it comes to goals. I print them out. I divide them into quarters. I hang the sheets up on the wall by my desk. Then I only glance at them periodically. But I don't give up. Or least I keep dreaming.
I know I won't accomplish all these goals perfectly. But I do believe in the saying, "Shoot for the moon. Even if you miss, you'll land among the stars."  The reality is I keep going but won't reach all of them.  I give myself grace.
Today I reviewed the goals. Some attained. Some started. Some ignored. Some no longer valid. Some totally forgotten. Some never started.
I won't "grade" myself, but this practice helps me listen to my heart and to God – where am I going.  I feel inspired to keep trying, a renewed motivation. I will experience this energy again in September when the end of year starts to come into view. 
Word of the Year Check-up
Mid-year is also a good time to consider your word of the year. What have you learned?  In some years my word evolved to another word. Other years I decide to continue to listen to its wisdom
I have shared this year my word is actually a phrase.- Honor the thirst deep within.  I have shared some posts here and the lessons I am learning with each word and a few surprises along the way.
Where to next?  I sense this phrase still holds lessons for me. But what I am hearing now is to group the words different:
What does it mean to "honor the thirst?"
What is deep thirst?
Where is this "deep within" and how do find and stay there?
If you only have one word, try finding a phrase or lyric or quote containing your word – match it up with some friends and see what changes.
Or maybe it is time to discover a new word? Or a variation of the word from January. Maybe if you never started at the first of the year, this could be a new practice for you the rest of the year.
New Invitations
Anything new bubbling in your soul that invites you to come closer to God after mid-year?
I am hearing to be consistent with longer contemplative prayer times.
I have a friend share this prayer recently and has become part of my morning devotions: "Sensitize me, Holy Spirit. I am open to where the Spirit leads."
Read my bookshelf.  I buy too many books – Time to explore what I already have – some read, some never finished. Some never started.  Hidden treasures on my book shelves invite me to come and learn.
Notice and name.  This has been a huge practice for me this year.  Paying attention to what stirs my spirit, resonates with my heart, maybe bring tears, unexpected joy, sadness, anger, laughter. Not just recognize this movement within me but to name it, stay with it at least briefly, listen to why it moved me.  By noticing and naming I am finding moments of joy I missed before in my rush to progress forward and get things done.  I am letting go of negative feelings easier when I choose early to release them.
Be ready to say yes.  I have no idea what this means. I sensed these words during prayer last week and wrote it in my journal.  I am open, Lord. Willing. May I be your servant.
Come along with me during this mid-year point and evaluate where you are and where you are going.  Even if you are not a goal-setter, occasionally reflecting of your spiritual journey will encourage, inspired and guide you .
Time for a check-up? What have learned so far in 2023 and what is the next right thing you need to do?