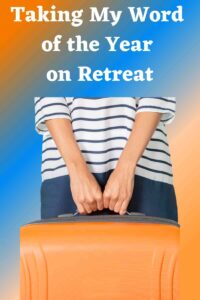 I leave later this week for a four-day silent retreat. The practice of attending a retreat at least yearly is life-giving for me and essential for my walk with God. I believe so strongly in this discipline I share a blog post every year about retreats (here are a few here and here) and even wrote a book, Spiritual Retreats: A Guide to Slowing Down with God.
Each year I remind myself to pack simply: just the essentials, my Bible, my journal, pretty pens and highlighters. I am careful not to bring along too many distracting books. Less stuff the better. The most important item to pack is an open and willing heart.
My word of the year is one of those necessary items to bring along. Retreats create silent space to allow my word(s) room to be heard and known exponentially. Like a good soup, my word slowly simmers, revealing wonderful, unexpected tastes. Like a plant, its roots dig deeper and life springs up its stem to produce fruit. Spiritual retreats nourish and allow our words to flourish.
I reread my journal entries noting what my word has said to me so far.
I pray, asking God to take these words and reveal lessons, directions, and even corrections. Surprise me, Lord.
I walk with my word as a companion on life's journey. Often we walk deeper into the woods than I would have on my own. Sometime my word leads me onto new paths.
My word(s) for 2023 are: Honor the thirst deep within.
I hope to linger with each word on this phrase. Write out definitions, synonyms, and antonyms. Pray with single words and the phrase as a whole. Savor Bible verses reflecting on these words.
Most importantly I will listen.
Mother Teresa said, "We need to find God, and he cannot be found in noise and restlessness. God is the friend of silence. See how nature – trees, flowers, grass – grows in silence; see the stars, the moon and the sun, how they move in silence. We need silence to be able to touch souls."
Taking my word of the year on retreat touches my soul. Silence found on retreat connects us deeply with how our word is calling us to live.
What spiritual practices are feeding your soul right now?