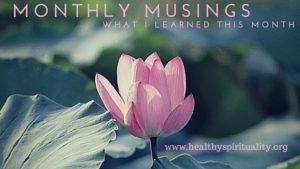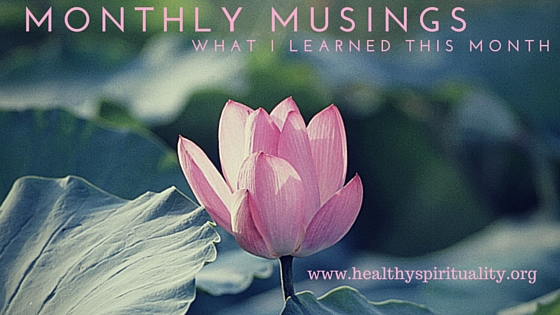 November Monthly Musings
Remember experiencing gratitude in November?  I hope this becomes a daily practice for all of us. What a powerful spiritual discipline.
Did you know the power of gratitude increases the more specific we are expressing our thankfulness?  For example, instead of saying "I am grateful for my husband," add the reasons why: "I am grateful for my hubby because he listens, stands by me, and offers words of comfort and guidance when I need them."
Gratitude is a form of remembering and honoring people and moments in our life. This is a foundation of living a reflective life and one reason why pausing each day, week, month and year to behold time in our life journey is a life-giving spiritual practice.
How are you living a reflective life? Each month I look back at what I am discovering, learning, and exploring in life – I call these my monthly musings. Capturing these special moments gives meaning, depth, and delight to life. Let's wake up to the wonders in the ordinary all around us.
I record what I notice on the pages of my Monthly Musing Journal. You can use anything, scrapes of papers, a journal, or a calendar. Copies of my Monthly Musing Journal are available on Amazon and are a convenient way to keep track of the little things in life we often miss. Or if you want to, click the button at the bottom of this post to get a FREE copy of my one sheet Monthly Musing handout.
What I Learned in November
Monthly Musing Lesson Learned:
I have been writing in my journal and hearing in my prayers reflections on how I see God. What images of our Lord emerge as I sit quietly with Him?
For our current faith formation, as adults, it is important to consider what is our image of God and how does that influence our beliefs, our behaviors, our attitudes and our relationship with God. Think about how your image of God has changed from your childhood and continues to evolve and change today.
Is God a faraway judge or an intimate friend and companion?
What is your image of God?  I have learned to let go of the old way I thought of God. That old stern, cold, distant God I thought as a child no longer fits how I see God today. I am thankful God has shown me new ways to see him.
Seeing God is like looking closely at a beautiful diamond. Diamonds have what is called facets on their surface. A jeweler takes one of those eye scopes, draws near and studies the diamond.  He or she looks at different surfaces and the way the light hits the diamond and as they slowly peer at the precious object, new revelations appear about the gem. The light enters a diamond from many directions and many angles revealing its treasures and beauty.
God is like that diamond. We draw close, near to him, study him and his light, the Holy Spirit helps us see God's richness, beauty, and new nature.
This month I made a list of 10 images of God that came to me spontaneously. I wrote them down quickly to see what bubbled up without any judgment or "I ought to's."
Shepherd – one of my favorite
Friend
Guide
Wisdom
Light
Creator
Savior – I am nothing without God.
Father
Gardener – prunes, nourishes me
More – mystery
These are just metaphors, God has no gender, He or she can't be contained in a box based on my human understanding. But images and metaphors give us some shape to this almighty, huge transcendent God. They help us relate to the Master, the More the eternal mystery. Oops, Master isn't on the list – I will have to ponder that one!
My challenge to you is make your own list of at least ten images you have of God.  Which one surprises you? Comforts you? Challenges you?  What is missing from this list? How does this list invite you closer to God?
Monthly Musing Good Reads
Called to Create: A Biblical Invitation to Create, Innovate, and Risk.  Jordan Raynor
I am enjoying reading this book as it is affirming creativity in our lives and inspiring us to practice this discipline. The book is giving me some insight to the tension I often experience in trying to live humbly and wisely as a Christian while also being an entrepreneur with books, courses, and ideas to promote. "What does it look like to create, not to make a name for myself, but to glorify God and serve others?"
Spineless – The Science of Jellyfish and the Art of Growing a Backbone.  Juli Berwald
This book will teach you more about jellyfish that you ever knew and to be honest want to know. Wow. Lots of details about this amazing creature. The author weaves her story among scientific facts about the jellyfish. While all the information is fascinating, I lost interest in all the dry minutiae.
What I gained from this book though is the encouragement to be curious. To seek a topic that attracts and calls to me and dive into learning all about that subject. The author wrote articles, interviewed experts, attended conferences, traveled to wild places to satisfy her hunger to learn about jellyfish. She allowed her interest to form her life. Her passion became her pursuit. I want my love of God to have this intensity, drive, and curiosity.
 Monthly Musing Wise Words to Remember
I Need Some Laughter, Lord
I have had enough
of sad saints
and sour religion.
I have had enough
of sin spotting
and grace doubting.
I need some laughter, Lord,
the kind you planted in Sarah.
But, please may I not have to wait
until I am ninety
and pregnant.
Church of Scotland Prayer
******
Everything that irritates us about others can lead us to an understanding of ourselves.
Carl Jung
******
As human beings, our job in life is to help people realize how rare and valuable each one of us really is, that each of us has something that no one else has ― or ever will have ― something inside that is unique to all time. It's our job to encourage each other to discover that uniqueness and to provide ways of developing its expression.
Fred Rogers

Monthly

Yearly Musing Word

Dictionary.com named its word of the year this month: Complicit

They wrote a very interesting article exploring the background of this word and its impact on our current culture. Read the article here.

"Complicit means "choosing to be involved in an illegal or questionable act, especially with others; having partnership or involvement in wrongdoing." Or, put simply, it means being, at some level, responsible for something . . . even if indirectly.

The word complicit has sprung up in conversations this year about those who speak out against powerful figures and institutions and about those who stay silent.

We chose our Word of the Year, in part, because of noteworthy stories of those who have refused to be complicit. In the face of oppression and wrongdoing, this refusal to be complicit has been a grounding force of 2017"

Challenges all of us to reflect on areas in our lives where we are complicit.

If you want a copy of my cheat sheet I have made it into a free downloadable printable and you can click the button below to get the free printable. I compiled these sheets plus additional information in a book, a two-year journal that is available on Amazon. I don't want to lose the loose sheets of paper and think having it in a book form will make it more of a keepsake. Keep all YOUR musings in one place.

What did you learn in November? Please share – I would love to hear about your journey and all your life lessons.