Monthly Musings
Each month I pause and take a look back at what I am discovering, learning, and exploring in life – I call these my monthly musings.
Living a reflective life is a spiritual practice that adds depth and gratitude to our lives. Often our busy schedules make it difficult to keep a daily journal, but we can find the time to take notes of the some of the highlights, lessons, and joys by waking up and paying attention.
I record these on the pages of my Monthly Musing Journal. You can use anything, scrapes of papers, a journal or a calendar. Copies of my Monthly Musing Journal are available on amazon and are a convenient way to keep track of the little things in life we often miss.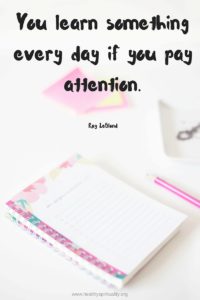 What I Learned in April
Lessons Learned
The series I wrote in April on discernment struck a chord with many readers and deepened my awareness of discernment, not just a tool for a major life decisions, but a way of life to live each day. What a blessing we have to have so many choices and how overwhelming and difficult that can be too. I long for a more simple life at times, yet love the exotic tastes, wonderful opportunities, and so much great information that abounds around us. Lesson learned: live a discerning life every day!
Second lesson learned came from my pastor's sermon this week about worry and serves as a great reminder:
Life by the yard is hard.
Life by the inch is a cinch.
Reminded me the value of only taking one step at a time and the importance of taking that first step when faced with a huge project and/or uncertain decision. The clock only ticks one tick at a time. And how do you eat an elephant? One bite at a time.
Wise Words to Remember:
Mmm, as I write this I am seeing a theme emerge about worry. Interesting as I reread the quotes that resonated with me this month:
"The resting place of the mind is the heart. The only thing the mind hears all day is clanging bells and noise and argument, and all it wants is quietude. The only place the mind will ever find peace is inside the silence of the heart. That's where you need to go."
Elisabeth Gilbert
Worrying is like praying for what you don't want.
Author Unknown
You do not need to know precisely what is happening, or exactly where it is all going. What you need is to recognize the possibilities and challenges offered by the present moment and to embrace them with courage, faith and hope.
Thomas Merton
New Word I Discovered:
Wafflestompers – what a fun word. It refers to ankle boots with ridged soles, used especially for hiking, but I think it could so much more. Imagine using this as a character in a children's' book. Or a name of a town for a setting for a story. Or – what do you think?
Good Reads:
I am enjoying anything written by Robert Benson. Just love how he weaves words together. Here are a few:



Also am reading The Productivity Project by Chris Bailey. He experimented with productivity for one full year and in this book lists his best tips for managing time, attention, and energy. The section that seems to contain the most unique info is the one on attention. Will probably share more on a later post, but you may want to read this one. I know our library has a copy – since I am reading that one, so check into this resource if you are looking for ways to grow your productivity.
Innovative Ideas, Tips and Resources:
On a whim, I purchased these Freshwork containers by Rubbermaid and have been thrilled that they are keeping my salad fresher and crisper much longer. I only have one size but have seen advertised other sizes. Definitely worth the money, which wasn't that much.
My favorite new app for my computer and phone is Focusatwill.com. Normally I like to create and write in silence, but this site provides music scientifically proven to improve your concentration and focus. I am loving it. The site does cost and I am only on the free trial period, but may purchase it once the trail is over. You can adjust the type of music and tempos and if you hear a piece that interrupts you and breaks your focus, you can fast forward and it learns not to play that type of music again for you. Amazing.
Interested in keeping track of your own Monthly Musings? If you want a copy of my cheat sheet I have made it into a free downloadable printable and you can just click the button to get the free printable.
Click here to request your Monthly Musings Printable
I compiled these sheets plus additional information in a book,the Monthly Musings Journal,  a two-year journal that is available on Amazon. I don't want to lose the loose sheets of paper and think having it in a book form will make it more of a keepsake. Keep all of YOUR musings in one place.

What did you learn in April? Please share – I really do want to hear about your journey and all your life lessons. Let's get to know each other through our stories about what we are learning.