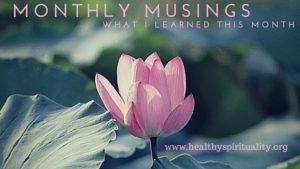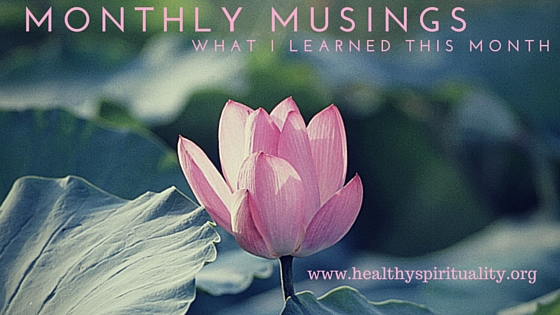 February Monthly Musings
Ah, February – the month of love. I reread and shared with several spiritual direction companions this month, Father Pedro Arrupe's prayer about falling in love with God. His words lingered in my heart this month.
Nothing is more practical than
finding God,
than falling in Love
in a quite absolute, final way.
What you are in love with,
what seizes your imagination,
 will affect everything.
It will decide
what will get you out of bed in the morning,
what you do with your evenings,
how you spend your weekends,
what you read, whom you know,
what breaks your heart,
and what amazes you with joy and gratitude.
Fall in Love,
stay in love,
and it will decide everything.
I sat with God, soaking in his love this month.
Each month I look back at what I am discovering, learning, and exploring in life – I call these my monthly musings. Capturing these special moments gives meaning, depth, and delight to life. Let's wake up to the wonders in the ordinary all around us.
I record what I notice on the pages of my Monthly Musings Journal. You can use anything, scraps of papers, a journal, or a calendar. Copies of my Monthly Musings Journal are available on Amazon and are a convenient way to keep track of the little things in life we often miss. Or if you want to click the button at the end of this post to get a FREE copy of my one-sheet Monthly Musings handout.
What I Learned in February
Monthly Musings Lesson Learned:
I relish the light each day as the time lengthens and the sun wakes up earlier and slips beyond the horizon a little later. Spring is coming and this fills me with hope.
Light is my word of the year and what fun it is to watch how it weaves its wisdom into my life.
I watched in fascination a new phenomenon for me called Parohelio radiating across the sky.
We blessed the candles at the church on Candlemass on February 2. Candles remind us that Christ is the light of the world and hope for all.
I watched the candles flicker during worship, recalling a moment years ago, singing in our church's youth choir, when I felt God's call to go into nursing. I remember staring at the flame on the Christ candle in disbelief, thinking "nursing?" and hearing a familiar whisper saying "yes."  I repeatedly told my parents as I grew up one job I never wanted was to be a nurse, but stepped out in faith to explore this vocation more. I fell in love with helping others physically, mentally, and spiritually. Light led me then and continues to guide my steps today.
Our Bible verse of the year for our synod and our congregation is Psalm 119: 105 and is a truth for all of us, every day:
"Your word is a lamp to my feet and a light to my path."
Monthly Musings Good Reads:
Interesting article by Brian Morykan titled " God is not a Cosmic Egotist" and worth your time to read. What is our response to this God who creates and gives us life?  He writes:
"What do we give back to the one who gave us everything? We give thanks. We bow in honor. We dare to draw near—boldly, because permission has been granted, and trembling because God is infinite personal energy and only fools approach that lightly. This is Friend, Father, Comforter. This is also Master and Maker.
"…Our job as mothers and fathers, artists and writers, pastors and teachers and worship leaders is to help others see reality—to behold the beauty of God. We're tour guides. We drive people out to the Grand Canyon of God and stare breathless over the abyss and say Will you look at that? And our wonder inspires their wonder."
How did the human heart become associated with love? Read about its fascinating history going back to the Greeks and Romans here.
Monthly Musings Word of the Month:
Gibble – gabble – fun word from the 16th century that means useless and senseless chattering.
Monthly Musings Wise Words to Remember:
Great opportunities to help others seldom come, but small ones surround us every day.
Sally Koch
The way of Jesus means taking each passing moment as an opportunity for surrender to God's Love. And as we practice allowing ourselves to simply rest in Christ's embrace, we begin to realize that this joy Jesus talks about isn't just an emotion we feel, it's who we're meant to be.
Br. Nicholas Bartoli
May you grow still enough to hear the stir of a single snowflake in the air, so that your inner silence may turn into hushed expectation.
Brother David Steindl-Rast
Fun and Innovative Ideas I Discovered:
I made my own low Weight Watcher point gummy bears this month. What fun and good too. Here is the link to the recipe here,  but I think you could use any finger jello recipe. I liked the colorful and easy molds too. I never knew someone made molds like these:
A polar freeze descended upon my part of the world a few weeks ago. I even wore my thermal underwear and multiple layers inside the house as outside set records at 40 degrees below wind chills.  And yes said multiple prayers of thanks for a warm house and protection for those emergency responders who ventured outside to help others.
BUT our older Equinox with its 10-year-old original battery sitting outside wouldn't start. RIP old battery. We charged it up.  Nope.  We tried to jump it with the warmer, much younger vehicle. Nope. Then a friend brought over a Halo Bolt charger – immediately the Equinox returned to life like it was resuscitated by a defibrillator. What an amazing gadget. Yes, we bought one to have on hand and also purchased  a new battery.
What a month of love, light, and life. I hope February brought you lessons and love this month too.
If you want a copy of my cheat sheet, I have made it into a free downloadable printable and you can just the button to get the free printable. I compiled these sheets plus additional information in a book, a two-year journal that is available on Amazon. I don't want to lose the loose sheets of paper and think having it in a book form will make it more of a keepsake. Keep all YOUR musings in one place.
Click here to request your Monthly Musings Printable
What did you learn in February?  Please share – I would love to hear about your journey and all your life lessons.