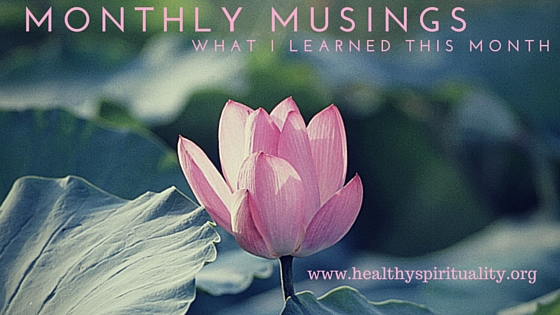 January Monthly Musings
In January we entered a new decade. I wrote about my yearly and decade review on this post and drew many comments and emails about this process.
My Bishop prays and names each decade of his life with a theme; growth, prayer, study, etc.
Since writing about my decade review and lessons, I have read what others have written too:
Why You Should Plan your Life on a Decade Leve
Guidelines for navigating the new decade ahead
11 Questions to help you set meaning goals for the next decade.
I guess my work continues on this adventure towards 2030. I do find the spiritual practices of listening and reflection to be powerful. That is why I share these monthly musings on a regular basis.
Each month I look back at what I am discovering, learning, and exploring in life – I call these my monthly musings. Capturing these special moments gives meaning, depth, and delight to life. Let's wake up to the wonders in the ordinary all around us.
I record what I notice on the pages of my Monthly Musings Journal. You can use anything, scrapes of papers, a journal, or a calendar. Copies of my Monthly Musings Journal are available on Amazon and are a convenient way to keep track of the little things in life we often miss. Or if you want to click the button at the end of this post to get a FREE copy of my one-sheet Monthly Musings handout.
What I Learned in January
Monthly Musings Lesson Learned:
Yes, looking back and forward across this past year and decade brought and continues to bring powerful lessons to my heart and mind. Ironically though I feel God's invitation to embrace the present moment. To honor the sacred ground between my spirit and whoever is right in front of me and their spirit.
Each person we see holds an incredible story behind their face. Joys and struggles we never see. A life loved by God. Created by God. Held by God. One to be honored also by us.
Be present.
Be mindful.
Pay attention.
Listen.
These are the phrases I hear over and over again throughout the day.
God is everywhere and in all things. We just need to seek and see him. All around. And especially within our own hearts and the hearts of others.
Monthly Musings Good Reads:
Creativity – Flow and Psychology of Discovery and Invention by Mihaly Csikszentinihaly
Thick amazing book all about creativity – a theme I am studying in 2020. Tons of research but useful to scan and read segments. "Creativity does not happen inside people's heads but in the interaction between a person's thoughts and socio-culture context. It is a systemic rather than an individual phenomenon."
Learned that an idea is best incubated over time and with others. Paying attention to all the hues we can collect from media, conversations, prayer, history, stories, and the environment. A creative person gathers from many sources to form innovation. I love the word incubation when thinking about creativity. Allowing time for God, the best muse, to shape the gift he is giving us to express what he calls us to write, say, make or express in wonderful endless manners.
Monthly Musings Word of the Month:
Benignity is a noun meaning a good deed, favor or act of kindness. We certainly need more benignity in the world!
This word originated from old French meaning kindness, graciousness, and friendliness.
Monthly Musings Wise Words to Remember:

"Every time you wake up and ask yourself, 'What good things am I going to do today?' remember that, when the sun goes down at sunset, it will take a part of your life with it."

An Indian proverb
Be sure to taste the moment to the full. The Lord always reveals himself to you where you are most fully present. In your prayer, try to present your anxieties, struggles, and fears to him, and let him show you the way to follow him. More important than anything else is to follow the Lord. The rest is secondary. If you follow him, you can follow him as a priest, as a lay minister, as a single person, or as a married person; but what really counts is that he is the center.

Henri Nouwen
There is always a reason for gratitude. Expressing gratitude in difficult times is an expression of trust in God, and an acknowledgment that God is present and at work in every time and place, always bringing life out of death, hope out of despair, joy out of sadness – even when we can't see it. Gratitude will not take away every pain or sorrow, but it will transform us in the midst of them.

Br. David Vryhof
Fun and Innovative Ideas I Discovered:
Talk about creativity! What does water look like when blasted with sound waves? One photographer asked that question and created beyond the imagination images.
You can read about this in this article and see some still and moving photos.
For a mesmerizing video of the work watch this You tube video
If you want a copy of my cheat sheet, I have made it into a free downloadable printable and you can just the button to get the free printable. I compiled these sheets plus additional information in a book, a two-year journal that is available on Amazon. I don't want to lose the loose sheets of paper and think having it in a book form will make it more of a keepsake. Keep all YOUR musings in one place.
Click here to request your Monthly Musings Printable
How was your January?
What did you learn in January? Please share – I would love to hear about your journey and all your life lessons.