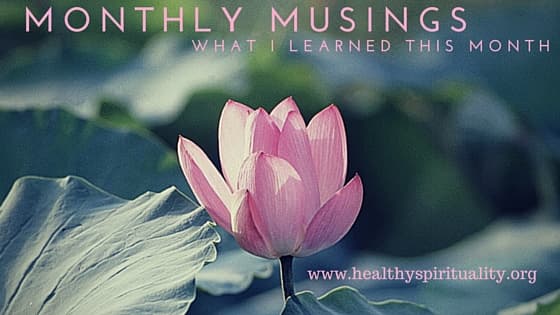 I haven't written a monthly musing post since February – remember that month? Prepandemic? When events were still on the calendar? Vacations anticipated and planned? How quickly our worlds turned upside down.
Yet the practice of reflection, examining where you soul is, how you spend your time, and how are you nourishing yourself in all dimensions, continues to ground us and grows us deeper. I think it is time I ponder July and possibly back even further.
I like to look back at what I am discovering, learning, and exploring in life – I call these my monthly musings. Capturing these special moments gives meaning, depth, and delight to life. Let's wake up to the wonders in the ordinary all around us.
I record what I notice on the pages of my Monthly Musings Journal. You can use anything, scrapes of papers, a journal, or a calendar. Copies of my Monthly Musings Journal are available on Amazon and are a convenient way to keep track of the little things in life we often miss.
What I Learned in July
Monthly Musings Lesson Learned
Whenever I am stressed, distracted, uncertain, I return to those spiritual practices that come to my heart easily, that I know have brought me peace and comfort in the past, and ones that help me hear and feel God's presence in a simple way. I reach into my toolbox and use those well-worn disciplines.
During this crazy chaos of Covid, I revisit journaling, contemplative/centering prayer, writing, and planning. I step away from anxious unknowns and find peace in what I can control and that I know. I know God. He is my rock. He has shown me who I am – a beloved child of God – and what he has called me to do. I focus on God and let him take care of the rest. We are called to be faithful, not to fix everything.
Yes, I crash in a pile of overwhelm some days.
Yes, I get discouraged. Even depressed.
Yes, I want to quit, run away, and sit in self-pity at times.
But I also know who is in charge.
God waits for me to turn and run back into his safe arms. He never leaves. He is here. Active. Present Offering his grace, love and presence.
I am so thankful for God.
Monthly Musings Good Reads
One good thing about the pandemic is I have read more. Yes, this is the year I am finally reading through that stack of "someday" books. But of course, I have continued to add to this pile too. Amazon is such quicksand for my addiction.
Here are a few I have been reading:
Tinker, Dabble, Doodle, Try by Srini Pillay. MD. An inspiring book about creativity (one of my themes this year) that invites you to tinker with ideas, dabble in new endeavors, doodle frequently to release obstacles and create opportunities.
The Creative Habit by Twyla Tharp.  Many practical ideas especially for writers. "Before you can think out of the box, you have to start a box."  Big ideas come unbidden, mysterious, and sometimes unwelcomed. "Creativity is all about playing and innovating within a familiar form."
I Have Seen the End of You  – a Neurosurgeon Looks at Faith, Doubt, and The Things We Don't Know by W. Lee Warren MD.  Tough book to read emotionally but these words bring you face to face with deep questions we all struggle with and leads you to hope in the Lord. "Faith is stronger than doubt."
Bandersnatch by Diana Paulac Glyer.  A book about Tolkien, Lewis and the inklings, their writers group.  Good summaries at end of each chapter how to apply their lessons to our lives.  "Creativity is messy business.


Monthly Musings New Words
Shambolic – seems fitting for 2020. Shambolic means "disorganized; messy or confused," and is an adjective, used mostly by the British. The word is a combination of shambles and symbolic.
Monthly Musings Wise Words to Remember
You do not need to know precisely what is happening or exactly where it is all going. What you need is to recognize the possibilities and the challenges offered by the present moment and to embrace them with courage, faith and hope.

Thomas Merton
Hope is what sits by a window and waits for one more dawn, despite the fact that there is not one ounce of proof in tonight's black, black sky that it can possibly come.

Joan Chittister


Neither I nor the poets I love found the keys to the kingdom of prayer and we cannot force God to stumble over us where we sit. But I know that it's a good idea to sit anyway. So every morning I sit, I kneel, waiting, making friends with the habit of listening, hoping that I'm being listened to. There, I greet God in my own disorder.

Pádraig Ó Tuama's

There is a kindness that dwells deep down in things; it presides everywhere, often in the places we least expect. The world can be harsh and negative, but if we remain generous and patient, kindness inevitably reveals itself. Something deep in the human soul seems to depend on the presence of kindness; something instinctive in us expects it, and once we sense it we are able to trust and open ourselves. Here in Conamara, the mountains are terse and dark; left to themselves they would make for a brooding atmosphere. However, everywhere around and in between there are lakes. The surface of these lakes takes on the variations of the surrounding light to create subtle diffusions of color. Thus their presence qualifies the whole landscape with a sense of warmth and imagination. If we did not feel that some ultimate kindness holds sway, we would feel like outsiders confronted on every side by a world toward which we could make no real bridges.
The word kindness has a gentle sound that seems to echo the presence of compassionate goodness. When someone is kind to you, you feel understood and seen. There is no judgment or harsh perception directed toward you. Kindness has gracious eyes; it is not small-minded or competitive; it wants nothing back for itself. Kindness strikes a resonance with the depths of your own heart; it also suggests that your vulnerability, though somehow exposed, is not taken advantage of; rather, it has become an occasion for dignity and empathy. Kindness casts a different light, an evening light that has the depth of color and patience to illuminate what is complex and rich in difference.

John O'Donohue

Fun and Innovative Ideas I Discovered
Amazing Creativity. Now why didn't I think of this?
I compiled my monthly musing pages plus additional information in a book, a two-year journal that is available on Amazon. I don't want to lose the loose sheets of paper and think having it in a book form will make it more of a keepsake. Keep all YOUR musings in one place.
What did you learn in July and so far this summer? Please share – I would love to hear about your journey and all your life lessons.