Monthly Musings
Each month I pause and take a look back at what I am discovering, learning, and exploring in life – I call these my monthly musings.
Living a reflective life is a spiritual practice that adds depth and gratitude to our lives. Often our busy schedules make it difficult to keep a daily journal, but we can find the time to take notes of the some of the highlights, lessons, and joys by waking up and paying attention. Capturing these special moments gives meaning and delight to life.
I record these on the pages of my Monthly Musing Journal. You can use anything, scrapes of papers, a journal or a calendar. Copies of my Monthly Musing Journal are available on Amazon and are a convenient way to keep track of the little things in life we often miss.
What I Learned in July
Lessons Learned
I reconnected with a writing friend in July. I met Robin probably more than 20 years ago and we continue to stay in contact. She lives in Indy about 3 hours from me and has begun an interesting ministry with her writing and vocation to help others. She calls it Write and Wine.
I finally made the time to attend one of her events and so glad I did. Yes there was wine but more importantly lots of connecting with others and with ourselves. She leads a discussion at first, then introduces the evening's writing prompts. The series in July focused on leaving your legacy. We chose 1 or 2 prompts, wrote silently in our journals for about 30 minutes, then regathered to share if we wished to and close out the evening. A time of listening to others and hearing ourselves at a new level.
I wrote quite a bit in that 30 minutes but the most insightful line and a big lesson for me this month was in response to the prompt of: Write something about yourself – a self portrait – using more than 25 words. Please realize I wrote this after lots of dumping of words on a page, free writing, then this emerged towards the end of my processing:
"My self-portrait is amazingly negative for a normally bubbly optimist who knows she is a child of God, beloved and accepted by God, but not by herself as if her opinion is more important, stronger and of higher influence than God's."
I am still praying, pondering and processing these words.
And a joy to share: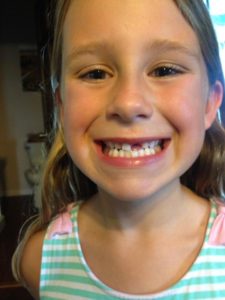 Kyla, age 7, my precious granddaughter lost her first front tooth. A rite of passage for that age. The phrase "rite of passage" struck me as I know the passages from the first part of life, but wonder how many occur in the second half of life and where am I now and what is coming around the bend. What do you think?
Wise Words to Remember:
I think over again my small adventures, my fears, those small ones that seemed so big, all those vital things I had to get and to reach, and yet there is only one great thing: to live and see the great day that dawns, and the light that fills the world.
Old Inuit Song
You can tell the size of your God by looking at the size of your worry list. The longer your list, the smaller your God.
Author Unknown
We delight in the beauty of the butterfly, but rarely admit the changes it has gone through to achieve that beauty.




Maya Angelou
Good Reads:
Visual Intelligence – Sharpen your perception, Change your Life by Amy R. Herman – I am going to write a full blog post about this book later this month but wanted to list it here. The book introduces a method of studying art work as a way to grow observation skills you can use in other areas of our lives. The author teaches police officers, military, FBI for example so they see and retain more details. Interesting read and one I renewed from the library to reread. Watch for a blog post about this book soon.
The 12 Week Year – Getting more done in 12 weeks than others do in 12 months – Brain Moran. I read this book before but looked at it again as we discussed its ideas on the Writers Chat that I co-host weekly on Tuesdays, 11 eastern, on Blab (live streaming). The book is more for business, than writers and explores setting goals on a 90 day cycles more than a 12-month cycle. What I learned though this time from reading it was to "score your results" and found hope in the research that you don't have to do 100% of what you plan to reach your goal. Studies show if you accomplish 85% of the tasks and some as a little as 65%, the odds of achieving what you set out to do, you will reach. Guess I don't have to do it all! LOL
Terrific Tools and Tips
I mentioned last month my new find of packing cubes and that I was going to use them for our pilgrimage to Germany. The results: I LOVE THEM! This just may be the product of the year for me. I saved a ton of space so much we plan to buy smaller suitcases as the ones we are using are quite large and getting in bad shape. I did see some wrinkles, but not any more from folding the usual way. These would make great gifts for others and for yourself!
I also purchased this month a little gadget called a Chat light. It slips over your phone or laptop to give your face more light when taking a photo or live streaming. I like it as it plugs into your computer to recharge, swivels so the light can be more indirect and has two levels of amount of light projects. Fun gadget.
Word of the Month:
Ever hear of this word? Sockdolager. I hadn't. Sockdolager is an old word, a noun, for something unusually large or heavy or can be a decisive reply or argument.
"Lately instead of discussing the issues, the politicians stick with sockdolager."
Final piece of trivia: I shared this on the blog during my series about Slowing Down with God, but it both fascinates and frightens me.
As it flies, an airplane is off course 95% of the time! Continuous monitoring is needed to reach the final destination. We aren't much different, are we? Made me think of my life verse from Hebrews 12: 2 – "Let's us keep our eyes on Jesus!" so we stay on course.
I compiled my Monthly Musings outline plus additional information in a book, a two-year journal that is available on Amazon. I don't want to lose the loose sheets of paper and think having it in a book form will make it more of a keepsake. Would love to have you order one and leave a review!
What did you learn in July? Please share – I would love to hear how you are growing and thriving this summer.
If you want the free Monthly Musing download sheet, just click this button.