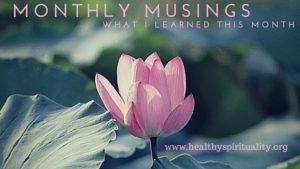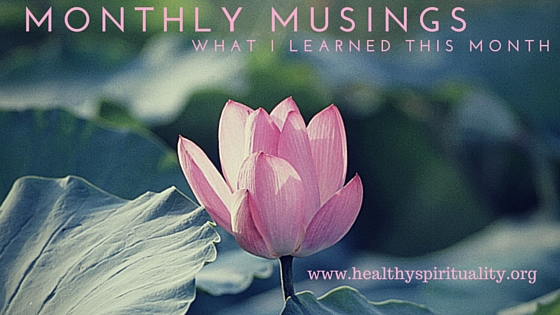 June Monthly Musings
June erupted with unique and blessed sounds – birds, silence and a newborn.
The birds harken me this summer. More music. Continuous choirs. Multiple choruses. Anyone else tuning their ears to the birds this year?
I facilitated a 6-day silent retreat in June. Most of the time those attending were silent except for meeting with me as the spiritual director.  What an honor to listen to pilgrims share their faith journeys and experience with God – sacred ground.  The voice of God whispers best in the quiet of our souls.
Most important and cherished sound of all – snuggling with my newest granddaughter born in June. Welcome, Gia to my heart!

♥
Each month I look back at what I am discovering, learning, and exploring in life – I call these my monthly musings. Capturing these special moments gives meaning, depth, and delight to life. Let's wake up to the wonders in the ordinary all around us.
I record what I notice on the pages of my Monthly Musings Journal. You can use anything, scraps of papers, a journal, or a calendar. Copies of my Monthly Musings Journal are available on Amazon and are a convenient way to keep track of the little things in life we often miss. Or if you want to click the button at the end of this post to get a FREE copy of my one-sheet Monthly Musings handout.
What I Learned in June
Monthly Musings Lesson Learned:
The post I wrote on Not Yet proved to be one of the most popular one ever on this blog.  You can read Not yet if you missed it.
Two simple words change our perspective and fill us with hope.
Then I discovered this TED talk where a high school instead of a failing or low grade, gave the student a "not yet" grade. Interesting, isn't it?
And don't we grade ourselves too?  What is your inner voice telling you?  You are a failure? You will never achieve? How about recognizing we are all on a learning curve to becoming more whole people of God – even with our flaws, worries, and wounds. We are all living "not yet."
Here is the Ted Talk;
Monthly Musings Good Reads:
Holy Companions – Spiritual Practices from the Celtic Saints by Mary C Earle and Sylvia Maddox.  Quick read and one that is easy to pick up, enjoying a short chapter at a time. Yes, St Patrick and Saint Brigit are included but so are many unknown at least to me – Celtic treasures.  Besides a short biography, there are reflections, thoughtful questions, and prayers.
Here is an interesting article based on this quote:
A man receives what he's is ready to receive.
Thoreau
Monthly Musings Word of the Month:
Otiose is an adjective meaning at leisure and comes from Latin implying "not busy with business or politics, leisurely, avoiding work or action, ineffectual, useless, peaceable, tranquil, vacant (land or public office)."   A useful word perhaps for some summer relaxation time.
Monthly Musings Wise Words to Remember:
Worry is a thin stream of fear that trickles through the mind, which, if encouraged, will cut a channel so wide that all other thoughts will be drained out.
Author Unknown
In honor of June in the northern hemisphere:
And so with the sunshine and the great bursts of leaves growing on the trees, just as things grow in fast movies,
I had that familiar conviction that life was beginning over again with the summer.
F. Scott Fitzgerald
Fun and Innovative Ideas I Discovered:
I bought this travel scale a number of years ago and never fail to pack it now. It is essential. Yes, the number usually goes up while I vacation, munch on new foods and get distracted by different routines, but it also helps keep me mindful and to make better decisions as the time away continues. My travel scale isn't a dictator but a pleasant companion.
How was your June?
If you want a copy of my cheat sheet, I have made it into a free downloadable printable and you can just the button to get the free printable. I compiled these sheets plus additional information in a book, a two-year journal that is available on Amazon. I don't want to lose the loose sheets of paper and think having it in a book form will make it more of a keepsake. Keep all YOUR musings in one place.
Click here to request your Monthly Musings Printable
What did you learn in June?  Please share – I would love to hear about your journey and all your life lessons.