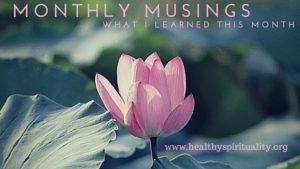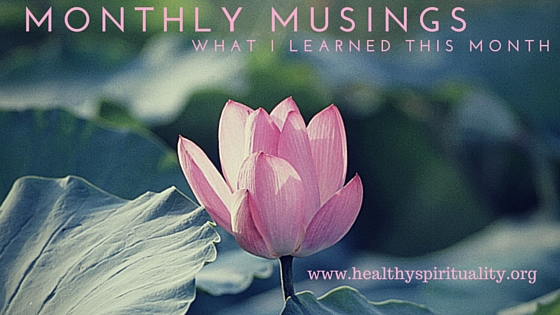 March Monthly Musings
What did the month of March teach you? What are your monthly musings?  Life offers us so many lessons, opportunities, challenges – always a learning process, a refining, a growth edge.
How are you living a reflective life? Each month I look back at what I am discovering, learning, and exploring in life – I call these my monthly musings. Capturing these special moments gives meaning, depth, and delight to life. Let's wake up to the wonders in the ordinary all around us.
I record what I notice on the pages of my Monthly Musing Journal. You can use anything, scrapes of papers, a journal, or a calendar. Copies of my Monthly Musing Journal are available on Amazon and are a convenient way to keep track of the little things in life we often miss. Or if you want to click the button at the end of this post to get a FREE copy of my one sheet Monthly Musing handout.
What I Learned in March
Monthly Musing Lesson Learned:
Will I ever learn to pivot better?
I am the type who likes order, plans, and knowing my next hundred steps in black and white and a map carved in concrete.
Life doesn't work that way though. I am slowly learning to pivot, modify directions, and bend a little with changing challenges and wonderful opportunities.
But it leaves me breathless, dizzy, and disoriented. I am thankful though to be grounded in faith and walking with God who I can run to for strength, courage, and peace.
Pivot is an interesting word to ponder. A ballerina pivots, often spinning faster and faster. She keeps her balance by focusing only on one thing. And there is a beauty to her twirling that adds dimension to her work.
Maybe I can learn to enjoy the dance and the loveliness of this movement in my life. What do you think?  Is pivoting a skill that you can improve and even learn to appreciate?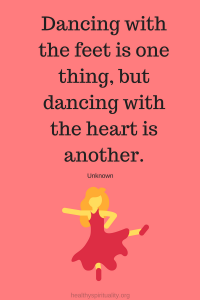 Monthly Musing Good Reads
"Untouchable Days have become my secret weapon to getting back on track. They're how I complete my most creative and rewarding work. To share a rough comparison, on a day when I write between meetings, I'll produce maybe 500 words a day. On an Untouchable Day, it's not unusual for me to write 5,000 words. On these days, I'm 10 times more productive."
Neil Pasricha wrote this in this interesting article.
I am reading The Joy of Missing Out – Finding balance in a wired world by Christin Crook. Interesting overview of our information overload and being connected 24/7.  She offers suggestion for gaining time, being present, making space to create – that last one matches one of my yearly goals this year. Lot of inspirational quotes and thought provoking questions too.
Just arrived in the mail for me:  Joyce Rupp's newest book titled: Boundless Compassion – Creating a Way of Life.  I love her writing and can't wait to dig into this book. (Does anyone else have multiple books open at the same time?)  This book is a 6 week study about compassion appropriate for individual or group work.
Monthly Musing Words of the Month:
Abeyance – even saying this word is fun.  It is pronounced like: \uh-BEY-uh ns\
Abeyance is a noun meaning temporary inactivity, cessation, or suspension.  Abeyance stems from the Old French term abeyance meaning "aspiration," or, literally, "a gaping at or toward." It entered English in the 1500s.
"Let's hold that problem in abeyance for a while."
What to learn a new word visually?  Check out new words at dictionary.com and their visualization of them. Fun to watch.
Monthly Musing Wise Words to Remember:
I didn't intentionally read Emerson this month but he popped up in my collected quotes quite a bit:
Guard well your spare moments. They are like uncut diamonds. Discard them and their value will never be known. Improve them and they will become the brightest gems in a useful life.
Ralph Waldo Emerson
Our greatest glory is not in never failing, but in rising up every time we fail.
Ralph Waldo Emerson
Write it on your heart that every day is the best day in the year.
Ralph Waldo Emerson
 Monthly Musing Terrific Trivia:
National Pencil Day is March 30 – time to celebrate this ordinary item we often take for granted. Interesting to note that John Steinbeck was an obsessive pencil user and is said to have used as many as 60 a day. His novel East of Eden took more than 300 pencils to write.

Monthly Musing Terrific Tool
Santa brought me a Charlie Travel USB plug and we took it on our trip to South Padre Island.  How convenient – we could plug in everything – and we do travel with multiple cords and gadgets – and the nightlight was great, especially in a strange room.  Highly recommend this!
If you want a copy of my cheat sheet I have made it into a free downloadable printable and you can just the button to get the free printable. I compiled these sheets plus additional information in a book, a two-year journal that is available on Amazon. I don't want to lose the loose sheets of paper and think having it in a book form will make it more of a keepsake. Keep all YOUR musings in one place.
What did you learn in March?  Please share – I would love to hear about your journey and all your life lessons.
  Click here to request your Monthly Musings Printable