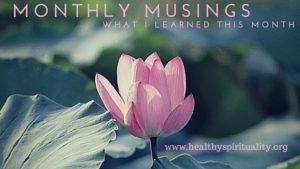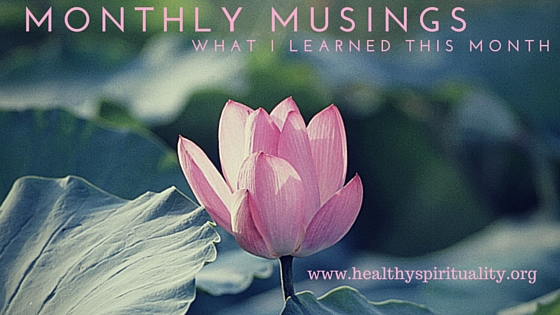 January Monthly Musings
Wow! Where did January go? One month of 2018 disappearing into the past. I know pausing and reflecting about the present moments and the past few weeks helps me appreciate, praise, and value the gift of life and time.
How are you living a reflective life? Each month I look back at what I am discovering, learning, and exploring in life – I call these my monthly musings. Capturing these special moments gives meaning, depth, and delight to life. Let's wake up to the wonders in the ordinary all around us.
I record what I notice on the pages of my Monthly Musing Journal. You can use anything, scrapes of papers, a journal, or a calendar. Copies of my Monthly Musing Journal are available on Amazon and are a convenient way to keep track of the little things in life we often miss. Or if you want to click the button at the end of this post to get a FREE copy of my one sheet Monthly Musing handout.
What I Learned in January
Monthly Musing Lesson Learned:
Speaking of our perception of time, I read this interesting article on how to keep time from moving so fast.
The major advice is to
Seek as many new and novel experiences as possible;
Savor what's already familiar.
These monthly reflections help me savor life. My challenge then is the first one: to seek new and novel experiences. I know my goal of reading and reading deeply and to explore creativity and art this year will help that I wrote about early in January. Will keep you posted on those adventures in a future post.
My hubby and I had an interesting conversation on Sunday. At church we sang the classic hymn "I love to tell the story." I think I can sing all the verse from heart since this hymn is deeply rooted in my heart from early Sunday School as a child. I told Bill this is one hymn to be sung with heart and joy at my funeral. I want colorful balloons on each pew to celebrating me arriving home at last. Bill said to write it down. Probably should do that. Ever think about what song you would want at your funeral? I also want "Be thou my Vision" and "Borning Cry" – guess it could evolved into a quite a hymn sing.
Monthly Musing Good Reads
Loved this post by Connie Rosser Riddle titled If I Lived to 100 – inspirational.
She challenges us with a good question: What if I looked at life without putting an 'upper age limit' a ceiling on what I could do? I want to be like her Aunt Polly.
And fellow book lovers will appreciate this article about how a woman expanded her home to fit her books. My husband said no. LOL
I am enjoying slowly reading "30 Lessons for Living" by Karl Pillemer. This author asked more than 1000 Americans over the age of 65 to share their advice for living. He shares their wisdom in this powerful book.
Here is an example that reflects my opening paragraph above:
"I've learned that when they tell you that life is short, that's what they mean, and it is true. Sixty-eight years have gone by very, very fast, and it seems like yesterday I graduated from high school and that was fifty years ago. And I think probably a lot of people aren't prepared for the fact that life on this earth is but a nanosecond and that's really true." Jordan Chen, aged 68
Monthly Musing Word of the Month
New word for me this month: DORP. Dorp is a noun meaning a village or hamlet. I live in a small town with less than 800 people Guess I live in a dorp. Not so sure about broadcasting that. LOL

Monthly Musing Wise Words to Remember
We fail in the work of grace and love when there is too much of us and not enough of God.
Suzanne Woods Fisher
******
There are times not to answer the door, not to answer the phone, not to do undone things, but to rest in silence from everything. The world can wait for five minutes. In fact, no matter how busy we are, no matter how well organized, no matter how little rest we allow ourselves, we will never do all that needs to be done. But to do well what we are called to do, it is essential to nurture a capacity for inner stillness; such quiet, deep-down listening is itself prayer.
Jim Forest
******
And a "oh so true but it hurts to think about" quote:
Everything that irritates us about others can lead us to an understanding of ourselves.
Carl Jung

Terrific Tools and Tips or Innovative Ideas I Discovered
The Creative Independent is a cool resource for creatives—not only a library of asked and answered questions, but also an invitation to submit your own.
I fell in love with this tool bag. Here it is from Amazon but I hear you can get it cheaper at a Sears store. I plan to check it out next time I am at the mall. I saw two bloggers use these bags for file folders and added post it notes in the pockets. On the side one blogger added pens and colorful markers to the pockets too. Very cute.


A few affiliate links are used here, which means at no extra cost to you, making a purchase by clicking these links helps support this site. Thanks!
If you want a copy of my cheat sheet I have made it into a free downloadable printable and you can just the button to get the free printable. I compiled these sheets plus additional information in a book, a two-year journal that is available on Amazon. I don't want to lose the loose sheets of paper and think having it in a book form will make it more of a keepsake. Keep all YOUR musings in one place.
Click here to request your Monthly Musings Printable
Have you joined the Healthy Spirituality Community Facebook group yet? Check it our for more inspiration and encouragement.
What did you learn in January? Please share – I would love to hear about your journey and all your life lessons.