Monthly Musings
Each month I pause and take a look back at what I am discovering, learning, and exploring in life – I call these my monthly musings.
Living a reflective life is a spiritual practice that adds depth and gratitude to our lives. Often our busy schedules make it difficult to keep a daily journal, but we can find the time to take notes of the some of the highlights, lessons, and joys by waking up and paying attention.I record these on the pages of my Monthly Musing Journal.  You can use anything, scrapes of papers, a journal or a calendar.  Copies of my Monthly Musing Journal are available on Amazon and are a convenient way to keep track of the little things in life we often miss.  
What I Learned in May
Lessons Learned
Notice what repeats in our lives.
God whispers in the ordinary.
I think God often has to hit me with his spiritual 2×4 multiple times before I wake up enough to hear him.  Kind of like that loving Gibbs slap to the back of the head moment (Sorry if you aren't a NCIS fan).
But I am learning to listen, observe, record and actively watch for God's lessons that surround us constantly. When I see/hear/realize something twice or more – I pause and ask if this could be a glimpse or hint or murmur from above.
I wrote this month about Beauty – Even in the Weeds.  The fields in Ohio are covered with bright mustard and now I am watching rows of purple weeds burst alive along the streams paths like God must have used up all his yellow paint and decided to explore a new color. Wow! What an artist our God is!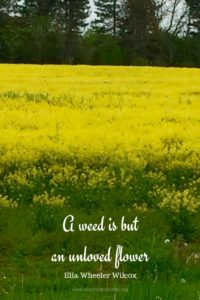 Wise Words to Remember:
Love
Love means to learn to look at yourself
The way one looks at distant things
For you are only one thing among many.
And whoever sees that way heals his heart,
Without knowing it, from various ills.
A bird and a tree say to him: Friend.
Then he wants to use himself and things
So that they stand in the glow of ripeness.
It doesn't matter whether he knows what he serves:
Who serves best doesn't always understand.
Nobel Prize-winning poet Czeslaw Milosz
*******
"Our job in this life is not to shape ourselves into some ideal we imagine we ought to be, but to find out who we already are and become it."
Steven Pressfield
*******
"Let us leave the surface, and, without leaving the world, plunge into God."
Teilhard de Chardin
*******
Good Reads
Can I brag a little?  I just released a new book on Amazon titled: Spiritual Retreats: A Guide to Slowing Down to be with God. I invite you to check it out. Spread the word.  Leave a review. Or just ignore it – ha!
What I am reading now:
The Slight Edge – Turning Simple disciplines into Massive Success and Happiness – Jeff Olson.  hard to believe I can learn all that in one book. Boils down to making good daily choices and slow and steady wins the race.  Common sense but a good reminder. 
Desperately Seeking Spirituality -a Field Guide to Practice – Meredith Gould.  I haven't started this one yet but this newly released book highlights different kinds of spiritual practices I haven't seen in other books:  willingness, curiosity, emptiness, and delight. Looks interesting. 
Terrific Tools and Tips
Go Tandem app for the smart phone.  I had a friend tell me about this app which will send you Bible verses at whatever set time you want.  I have mine set for twice a day. You can make notes right on the app and star which verses you like. This morning's verse served as a writing prompt for me in my journal.  Check it out!
A gift from my hubby:  Loving the hour glass that graces my desk and reminds me how precious time is and quickly it flows through the fingers of our heart.
Word of the Month:
Snuggery – Just saying this word is fun and you can almost guess its meaning. Snuggery is a British term for a comfortable or cozy room.   I think everyone needs a snuggery!
Joys and Delights
My six, almost seven-year-old granddaughter, Kyla, has been taking swimming lessons. She just couldn't bring herself to jump off that diving board into deep water. BUT in her final lesson, she did it!  What a lesson to learn: give yourself some time but then take that risk and leap!
https://www.facebook.com/katie.rummel.9/videos/10209208173422121/
So had to also share a cute photo of her twin brothers. 

Yes they are my joy and delight!
I compiled my Monthly Musings outline plus additional information in a book, a two-year journal that is available on Amazon. I don't want to lose the loose sheets of paper and think having it in a book form will make it more of a keepsake. Would love to have you order one and leave a review!
If you want the free Monthly Musing download sheet, just click this button.
Click here to request your Monthly Musings Printable
What did you learn in May? Please share – I would love to hear how you are growing and thriving in 2016.