The past two Thursdays I pondered her chapter on Cultivating Astonishment and Practicing Resiliency; this week let's explore another chapter:

 

Be an AM.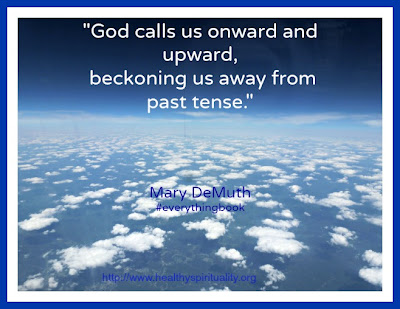 A standard piece of advice for any writer is: AVOID PASSIVE WRITING.
Passive writing sucks the life out of your words. The meaning is heavy and it emphasizes the object not the subject in a sentence. Active tense is present and full of energy.
Read these two examples. See how the second one is better?
In the field was a mouse. He was sitting in the tall grass. There was a cat across the road. The cat smelled the mouse, and began to walk to the field. There was a noise in the grass. The cat and mouse looked at each other.
The mouse lolled in the field, nibbling on a seed. He sighed as the soft rustling of the grass caressed his ears. Suddenly, he leapt to his feet as a rumbling purrr floated through the breeze. The mouse stared straight into two yellow eyes and a wide, cat grin. "Egads!" he shrieked.
Sigh, I want to live that way too: Alive and Present.
In Mary DeMuth's new book, Everything, she writes,
"God call us onward and upward, beckoning us away from past tense to present tense."
Those words resonate with me. Mary provides a list of what she used to be – her past tense.
Then with God's loving insight transforms the language she repeats to herself:
I am wanted and needed in God's kingdom
I am I am renewed so I can try again.
I am significant to Jesus.
What a great spiritual practice for us! One of my spiritual directors often says, "Listen to the vocabulary you use."
Words we use, words we believe, words we say without thinking are powerful.
Mary included the following quote in her book that I found very true and freeing:
"The process of spiritual maturity is simply our learning to turn more and more areas of our lives over to Christ through faith. The past is over; the future isn't here yet. Therefore, living by faith can only be done in the present."
We are called to live day by day by faith. God desires us to live in His freedom without the shackles of the past or the weight of concern about tomorrow.

 
I am going to listen to my words this week and I will reduce my passive voice.
I am walking with the great I AM.
What does living in the present mean to you?