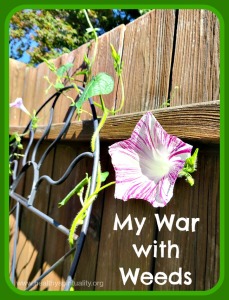 I love the rainbow of colors in my backyard garden – red and yellow roses, black eyed Susans, grape tomatoes, and pink things I can't remember what they are called – sparkle and dance for my pleasure. Flowers bring joy and beauty to my day and remind me there is more to life than everyday grind of work and bad news.
BUT I don't like weeding.
Weeding the flowerbeds is a necessity though, to keep the garden blooming and thriving. Little did I know weeding would also teach me an important lesson this fall.
I noticed a few weeks ago a gangly green vine entwining itself among the Black eyed Susans. I yanked that weed out.
More appeared the next day.
I yanked that weed out again.
I told that green stringy nuisance that I am the master of this garden and it better skedaddle out of here.
Then we left for a weekend.
Guess who came back with vengeful reinforcements.
Yep – while we were gone that creeper multiplied and spread its tendrils up and around the trellis. A power climber, it stretched its stalks toward heaven like the Tower of Babel.
Weeds! What good are they, except to irritate me? Distract me? Steal the joy from my garden!
I sat on the backyard deck the morning after our return, sipping my coffee, supposedly reading my Bible and becoming all spiritual, you know, all the while steaming not with the spirit, but with churning with the wrath toward that worthless weed.
I would win this battle. I got up towards that beast and just before the tug of war commenced, I noticed its flower.
Three beautiful purple blossoms smiling at the sun and probably at me too.
DUH! This was not a weed. This was the morning glory I planted two years ago that finally decided to appear.
Thank heaven for its persistence or I would have never enjoyed its company. I certainly didn't make it feel welcomed in my garden 
And in my haste to judge its unanticipated arrival, I almost lost God's newest gift of beauty.
And what a lesson that sometimes we plant seeds – start something with enthusiasm and hope – and then when it doesn't emerge as we plan or envisioned – we give up.  Sometimes dreams do blossom but often not on the time table we wanted. Maybe that hope, that dream is waiting to surprise us.
What is a weed? 
A plant whose virtues have not yet been discovered. 
~Ralph Waldo Emerson
Weeds are flowers too, one you get to know them.
Eeyore
As one grows older one should grow more expert at finding beauty in unexpected places,
in deserts and even in towns, 
in ordinary human faces
and among wild weeds."
C.C.Vyvyan
I wonder what other unexpected encounters I meet everyday that I think are irritations, nuisances or distractions that in reality may be beautiful gifts from God.
God's lessons are all around us – even in the weeds.
What weeds have you learned to enjoy in your life?