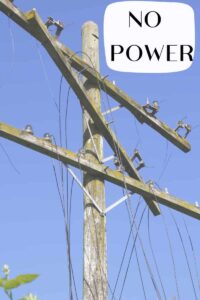 No power.
I woke up suddenly knowing something happened while we slept. In my foggy first moments I realized the power was out and pitch blackness saturated the room.
I could hear the thunder and assumed the storm knocked out our electricity. With the dim glow of my cell phone, I cautiously moved to the front of the house scanning the neighborhood for any signs of light. None. No power anywhere along the street.
My phone's data allowed me to googled the local energy company and found its map for outages. Yep, our entire village's electrical grid was down with the estimate time of repair of 4 am. Ok, it's 11 pm the lights will be back on by the time I need to get up and get ready.
Wrong. The time kept changing. 8 am. 3 pm. 11 pm.
What caused this disruption on my world? The truth is stranger than fiction. In our neighboring town a lightning strike took out a transformer that sent all power to my village. Wires dangled lower over railroad tracks and sure enough along came a locomotive snagging the wires and pulling down 16 poles. By the time the train stopped, the result was a tangled mess of cables for miles and no power for the western part of our county.
I laughed at the irony. This wasn't the first time last week I confronted the upheaval of no power. My hubby and I were impacted by a situation where we had no control about the details. Yep, no power. I was frustrated. Angry. Helpless. Both incidences provoke the same emotions.
I pouted. I cried. I even let my imagination swirl into escape and delightful revenge. We couldn't fix the situation and we couldn't fix the electrical problem – both resulting in no power.
Humans have a deep-seated desire to control and to shape outcomes to what suits us. The reality is most of life we really don't have much control. This drive has worsened during the uncertainty of the past few years with Covid and divisive politics.
Do you ever observe yourself as you react to certain circumstances?  I watched myself in both of these incidences and learned several valuable lessons. It is a good spiritual practice to be aware of what jars, stirs your spirit and make note of what these moments teach us.
I did have power. The pastor's message last Sunday (Pentecost Sunday) was about power, especially the power of the Holy Spirit. God's power is always with us.
I laid both situations into God's hands and ask him to open my heart to see their gifts. Parker Palmer wrote, "Alongside the hard realities we must deal with, life offers a million moments of delight—and they, too, are real. Staying in touch with delight as it comes and goes will help us do our share of the world's heavy lifting." How could I reframe my mindset about what was happening? What did this time make possible?
Even while I bemoaned having no power, the butterflies still glided among my backyard flowers and the birds kept singing. This was an internal battle, and I had a choice on how I could respond.
I listened. Good reminder of the value to pausing and practicing deep listening in times of frustration. I was amazed how quiet the house was – no hum of appliances or chatter from the TV. Silence brought peace, clarity, and enough space to hear God and myself.
Perspective. How could I permit such deep emotions to ruin my day when I regain the perspective (and this took some time) that all this was "first world" problems and very trivial compared to the reality many are facing in the world? "Grow up, Jeanie and see your blessings."
Space to hear surprisingly led to space to do some work we hadn't been able to do. We scrubbed the outdoor furniture. I connected with a lifelong friend – all became possible due to the other situation.
Though I didn't at first, I slowly began to practice gratitude. I was thankful Bill brought home after work a large coffee for me. Our portable chargers were fully juiced and ready to recharge our phones. The dreary cloudy morning emerged into a sunny warm afternoon. We began to see the gifts in the situation where we held no control – lots of gifts emerged. When we feel helpless, often it is the small gifts that help us regain our balance.
Remembering – remembering God is the power.
Reframing – widening our perspective to see all the blessings and imagine what could now be possible.
Rejoicing – being thankful for all the gifts, especially the small ones often ignored.
How could remembering, reframing, and rejoicing help you when faced with no power?  Please add to this discussion.