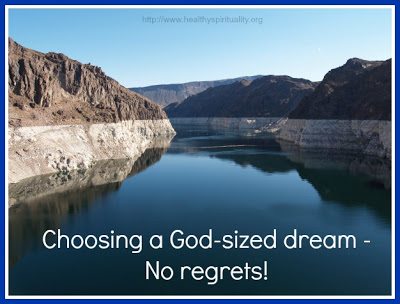 Bill and I had been married a couple of years when my brother, who was serving in the Army, was stationed in Germany.
"Come over and visit us" was his invitation.
We talked about going. We saved the money. We never went.
We let life's worries and "what if's" block an opportunity and we have regretted it ever since.
Bill and I often use this decision from early in our married life as a plum line for discernment. Will we regret not taking this opportunity? Will we look back later in life and say we should have?
"The saddest summary of life contains three descriptions: could have, might have, and should have." ~ Unknown
Holly Gerth 
has been challenging us to discover and explore God-sized dreams.
She has invited us to say yes to a God sized Dream. She explains her project on
her blog here
:  She writes:
"This is an invitation to come alive and live the life you were designed to live. And when you do, you can't help but encounter the wonder of God—those moments of spiritual awakening that make you long to know God more."
I have been reading her and other blog posts about this concept and have been talking with God about this. My prayer has been "Please keep me open and willing to Your invitation."
You see I don't want to miss any opportunity God places in front of me. I don't want to regret not going on His wonderful adventure. I pay attention on my journey and keep my heart wide open for His blessings. My No Regret belief gives me the hope and courage to follow Him, if and when God asks me to step out of my comfort zone and take a risk with Him.
After I wrote the paragraph above, I felt a twinge  cold piercing stab of fear. Did I really mean that, Lord? What have I committed myself to? Oh yeah, I handed my heart and will over to the One and Almighty God, the Creator and Protector of the Universe. That is not bad company to travel with….
But I digress…
Choosing a God-sized dream = No Regrets.
Reminds of a story I read a long time ago in
Bruce Wilkinson
's Prayer of Jabaz:
There's a little fable about a Mr. Jones who dies and goes to heaven. Peter is waiting at the gates to give him a tour.
Amid the splendor of golden streets, beautiful mansions, and choirs of angels that Peter shows him, Mr. Jones notices and odd-looking building. He thinks it looks like an enormous warehouse – it has no windows and only one door. But when he asks to see inside, Peter hesitates. "You really don't want to see what's in there," he tells the new arrival.
Why would there be any secrets in heaven? Jones wonders. What incredible surprise could be waiting for me in there? When the official tour is over he's still wondering, so he asks again to see inside the structure. Finally Peter relents.
When the apostle opens the door, Mr. Jones almost knocks him over in the haste to enter. It turns out that the enormous building is filled with row after row of shelves, floor to ceiling, each stacked neatly with white boxes tied in red ribbons. "These boxes all have names on them," Mr. Jones muses aloud. Then turning to Peter he asks, "Do I have one?" "Yes you do."
Peter tries to guide Mr. Jones back outside. "Frankly," Peter says, "if I were you… . "
But Mr. Jones is already dashing toward the "J" aisle to find his box. Peter follows, shaking his head. He catches up with Mr. Jones just as he is slipping the red ribbon off his box and popping the lid.
Looking inside, Jones has a moment of instant recognition, and he lets out a deep sigh like the ones Peter has heard so may times before. Because there in Mr. Jones's white box are all the blessings that God wanted to give to him while he was on earth… but Mr. Jones had never asked."
My prayer right now is to ask to hear God's dream for me. I don't want to miss out of any of His blessings, gifts, opportunities He has for me. The choices we make impact our life. I chose God. I chose to follow His lead. I chose to continue to sit at His feet listening and learning and following Him with no regrets.
Have any of you struggled with finding that God-sized dream? What has helped you?