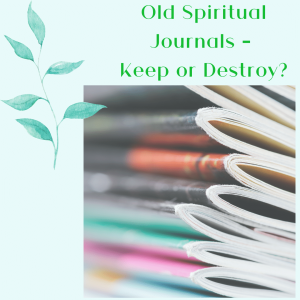 Old spiritual journals – do you keep them or destroy them?
This question is the number one question I get asked when teaching or writing about keeping a journal. And I fear the number one reason why some people never begin this life-giving spiritual practice – What if someone reads what I write????
Let's talk about the riches of keeping our journals and some reasons why you might not want to.
What is a Spiritual Journal?
A spiritual journal is a notebook or some type of recording of your faith journey. The focus is on your relationship with God, how you see life through your spirituality and where you prayerfully think God may be inviting you next in life.
A spiritual journal is not a diary – where all the nuances of daily life are documented. Significant life events or what is impacting you in ordinary living can be the framework, but the essence of what you write is through the lens of your faith. How is that event transforming you? What does God want you to learn from this situation?
Joan Chittister calls journals "the x-rays of our souls. They refuse to let us hide from ourselves."
Why I Write in a Journal
I see entries in my journal as markers or signposts on my path. Where I was at this particular time? Writing regularly helps to capture my emotions, thoughts, and prayers that often slip away from my conscious, but linger in my unconscious.
A journal helps me see and hear God in a tangible way.
My journal is my inner thoughts, my reflections on life and my faith walk and my companion on this earthly journey. Keeping a journal for me is one of the key essential practices in my spirituality.
Here are some other reasons for keeping a journal:
~ Writing helps us to articulate our relationship with God.
~ Gives us a place and process to organize our thoughts. I often see themes emerge as I write.
~ What a safe place to explore our hopes, dreams, fears, joys, and concerns.
~ Provides a record for my insights and great quotes that resonate in my heart.
~ Keeps prayers and conversations with God we have so they're not forgotten.
~ Creates a time and space on a regular basis to be with God and make some sense of life. (Sometimes we're so busy living life that we don't take time to get perspective)
~ I hear myself in my journal – so often our voice is drowned out by the noise of the world and my own internal chattering I miss my true desires and what God is whispering to me.
~ Journaling helps me discover myself and know God better. My story within God's story.
Do I Keep or Destroy my Journals?
I keep my journals. I fully expect my children to someday read my words and thus, I write accordingly. I think of my journals as written legacy for them. One of my most precious objects is the 60 plus years of journals written by my great aunt. Her words connect to my words as an heirloom. I am gifting my journals, my life, my journey, to others.
Most of the time I am 99% honest in what I record and only occasionally have I left something out or wrote in vaguer terms. Just decide to write and think through the situation if someone did read your words. Let it frame your journaling, but don't let it stop you.
I learn from rereading my journal. I wrote about a reviewing them from 40 plus years of writing in my journal. I harvest, reread, and summarized my journals annually. Often reviewing my writing starts a retreat time on the right note and settles my spirit to listen.
I gain insight from looking back – seeing what I have struggled with in the past, rejoicing in answered prayers, and realizing we never fully graduate into perfection as we deal some lifetime wounds and limitations.
What about Not Keeping Journals?
One of my favorite "light-hearted" poems to share in response to the struggle about keeping or destroying is this:
Now I lay me down to sleep.

I pray the Lord my soul to keep.

If I should die before I wake,

Please throw my journals in the lake.
Courtney Carver wrote this article about "Why I Don't Save Journals or Other Sentimental Items" raising some very valid issues why some people chose to destroy their writings.  I encourage you to read this side of this debate.
Her key reasons are to live simplistically and to "instead of proving that you have lived, live. Instead of proving that you have loved, love."
Other considerations to take into account is some people find relief and freedom by getting rid of that aspect of their life. Letting go is a powerful spiritual practice.
Maybe family wounds and secrets may best not be shared.
Maybe you want your words to remain private. That is okay.
The Key Question
The key question is why do you write in the journal? Your intention(s) determine whether to keep or destroy them, but it is important to know your why. This is a record of your words and reveals your heart on those pages. There is no right or wrong answer to the question of keeping or destroying them.
Your life is precious, visible and vulnerable in these words. How best to hold them in the future?
What do you think – keep or destroy old journals?