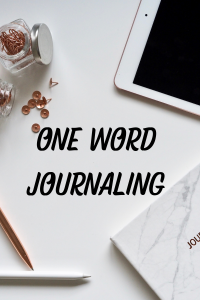 Is one word enough for a journal entry?
Using a single word as a writing prompt is amazingly simple, yet powerful. I have notice when studying scripture and being with God, often the small plain words hold as much meaning as the gigantic theological ones.
THE Lord is MY shepherd.
OUR Father who art in heaven.
YET God…
My Word of the Year
My word of the year is very minimal and down to earth:  GO.  I have shared on other posts about my word and GO continues to put down deep roots in my spiritual journey this year.
Emily Freeman talked this past week about How to Journal Using One Word in her #173 podcast. Well worth listening as she is inspiring and insightful every week.
Emily likes to write her word at the top of a journal page. She then reviews and reflects over the past week, month or quarter her using her iPhone photos, her journal, and her daily planner.
Paying attention, she looks for patterns or material related to her word. She then gleans insights and themes weaving throughout her life, often unnoticed before. Her word takes on new life and wisdom.
Special journals are even available such as this one: Amazon; The One Word Journal Paperback.
Last month I used a mind map with my word in for one word journaling.  You could use a digital app or just draw one like I did. I make a circle and write my one word inside of this in the middle of a journal page.  Then with lines permeating outward with all the phrases I can think of (or google) related to that word. What fun it was to see new choices and combinations materialize.
Here is a photo of part of my word mind map: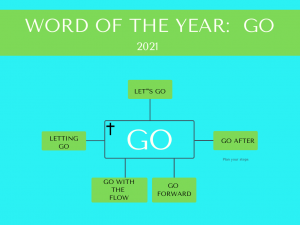 One Word Journaling with Gusto
Listen for your word in conversations. "Go" stands out to me when someone else uses it in a sentence, especially when used in a unique way.
I have been focused and a bit overwhelmed working on a book projected to be published in 2022 but with a June 2021 deadline to the publisher. The rough draft is complete, but very very lacking in proper grammar, sparkling words, and far from the finished line. I am in the depths of rewriting and self-editing before I can submit it and drowning in details.
I shared with my hubby how I am going through the early version multiple times finding better words and making sense of ideas. I lightened this tedious yet necessary writing step by naming each pass through.
Initial clean-up of garbage – GUS
Better transitions and theme cohesion – FLO
Adding description and poetic words and rhythms – EMILY (Dickinson)
My hubby laughed.
"You go with GUSto!" he said.
Go with gusto – a new use of my one word! Still makes me smile. And you bet I wrote Go with Gusto in my journal adding a new facet to my word of the year.
How could you use one word in your journaling?  Any insights or experiences to share?