"The paradox of our time in history is
 

that we have taller buildings but shorter tempers,
wider freeways, but narrower viewpoints.
We spend more, but have less;
 

we buy more, but enjoy less.
We have bigger houses and smaller families,
more conveniences, but less time.
We have more degrees but less sense,
more knowledge, but less judgment,
more experts, yet more problems,
 

more medicine, but less wellness…
We've learned how to make a living, but not a life.
We've added years to life not life to years.
 

We've been all the way to the moon and back, but
have trouble crossing the street to meet a new neighbor.
space but not inner space…"
A paradox is a statement that contradicts itself or a situation, which seems to defy logic.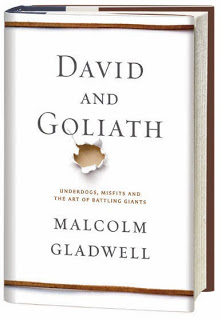 We assume the bigger and better prepared Goliath could easily defeat young, inexperienced David – but the opposite happened.
Gladwell paints a surprising new view of this well-known Bible story. Then he offers stories about different people who faced an oversized challenge and was forced to respond. His primary lesson is that often giants are not what we think they are and what we think is their strength can be their weakness. Why when we see the giant, do we automatically assume the battle is his for the winning?
Being the underdog can be a great opportunity too.

 

Gladwell gives multiple examples where there are times it is better to be a "big fish in a little pond than a little fish in a big pond."
Another surprising study he shared was about the paradoxical way to raise test scores. Make the test little bit harder. For example, researchers printed out test questions in a font that was really hard to read and test scores increased.

  
A bat and  a ball cost $1.10 total. yada yada yada…
This font made reading frustrating and we had to squint a little. We read the sentence twice and had to work to read the question. That extra effort paid off if we had to think about the answers more. The result was a desirable difficulty turn beneficial.
Would I recommend this book? I borrowed it from the library and glad I didn't invest any money. I did invest time – another precious commodity – but found it mentally stimulating and stretching.
Though many endings are not happy, obstacles and difficulties may force us to develop skills that otherwise remain dormant and/or find the courage to take a chance we may not have taken under safer, more comfortable circumstances.
While I am not sure I agree with all of his conclusions, this book will expand your point of view and offer hope and encouragement. But the wounded don't always win either, so this book may challenge what you always thought was true.
The concepts in this book would make great discussion at a small group or over dinner. We don't wish difficulties for our kids, but do want them to face the challenges of life with courage and perseverance. It is hard to endure complex, discouraging problems, but I hope I learn and grow in these struggles.
Always an optimist, my bet is with the Davids of the world and the Bible reminds me of the wisdom in the paradoxes of life.
"I am crucified with Christ: nevertheless I live; yet not I, but Christ liveth in me" (

Galatians 2:20

).
"Whosoever shall seek to save his life shall lose it; and whosoever shall lose his life shall preserve it" (

Luke 17:33

).
"So the last shall be first, and the first last" (

Matthew 20:16

).
Read any good books lately that challenged your thinking?