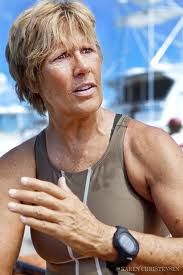 Sixty-four year old
Diana Nyad
completed a life long dream yesterday through perseverance. She swam all the way from Cuba to Florida, becoming the first person to do so without a shark cage. This was her fifth try to accomplish this feat in the treacherous waters of the Gulf.
Now that is what I call never giving up. Perseverance!
She first started this dream in 1978 and now 35 years later at the age of 64 she is trying again. I find this so encouraging. She keeps trying and adjusting her technique, learning from the past and trying again. Another trait of perseverance.
Her words inspired me as she acknowledged to the CBS reporter that past attempts have brought physical pain and emotional heartache but also gave her clarity.
You shoot for the stars and when you are up there in the heavens, playing around, trying to touch those stars, you get a lot of satisfaction and do tap your potential."
No matter your age, you still can stretch yourself and learn something new. New life lessons.
No matter your age, you can still dream.
No matter your age, you can still attempt that dream.
No matter your age, try and try again.
No matter your age, the stars are waiting for you.
I read this quote from her the other day:
"When I walk up on the shore in Florida, I want millions of those AARP sisters and brothers to look at me and say, 'I'm going to go write that novel I thought it was too late to do. 
I'm going to go work in Africa on that farm that those people need help at. 
I'm going to adopt a child. 
Its not too late, I can still live my dreams."
Wow!  The stars are waiting for all of us.
What inside of you is calling you to try once again?