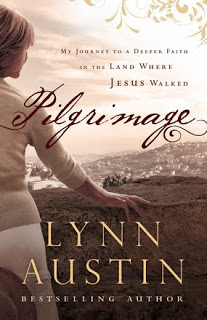 Travel. Vacations. Pilgrimages.
Whatever you call it – the time away from the routines and ordinary duties refreshes the body, mind and spirit if we intentionally seek deeper nourishment.

 
I like the word "Pilgrimage" which originally meant, "to go through a field." Often this term refers not only the physical trip to a special place, but an inward journey also. We venture out on a tour paying attention to where God speaks and beckons and we come home transformed by his grace and wonder.
On a pilgrimage, we see the world from a new perspective and discover new wonders. A pilgrimage can be to any place where we find God, even the stillness of our own backyards. But

 

"thin" places also exist in multiple sacred locations throughout the world.
I was excited to review this book for Bethany House and need to let you know I did receive a free copy of this book in exchange for my honest review. I have been on pilgrimages to Iona, Scotland and to Rome and have a trip booked for the Holy Lands next fall. This book arrived at a wonderful time for me.
Lynn takes you on the journey with her from her dried spiritual life as she leaves home through her growing and learning as she traveled to her homecoming refreshed with joy.
Chapter titles such as Leaving Home and Ho-Hum, The Judean Wilderness, Crossing the Jordan and Jerusalem described her travels.

 
My favorite chapter was Sabbath Rest, since this is a spiritual practice I struggle to maintain. Lynn writes,
"Keeping Sabbath is very inconvenient in our modern culture…A day that's completely devoted to God can be never impractical…Taking time from our busy, frantic lives to rest and honor God helps us restore the healthy rhythm and balance that God modeled when he rested from his own work on the seventh day."
This book will be my companion this year as I prepare my heart for my pilgrimage to the Holy Land. Whether you have a been a pilgrim to Israel, to another sacred place or just spent time with the Lord in your back yard, this book will guide you too on your soul's journey and into a deeper faith.