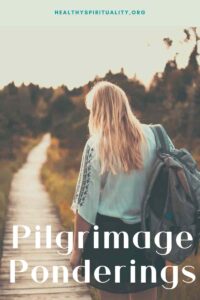 Pilgrimage. Journey. Travel.
I just returned from a 12-day pilgrimage through Germany, Austria, and the Czech Republic. I fully believe that travel gifts us in three ways: the joy in the planning and anticipation of a journey, the delights embracing the moments experienced while present in new places and the insights through reflections once home again.
On a pilgrimage, the intention is to be open to God and allow the experience to transform us. It is not about the destination(s), as either a vacation or pilgrimage can explore an historic site or sacred spot – it is about the journey within.
And please don't take me wrong: there is nothing bad about taking vacations. Vacation renews us, connects us with others and brings learning and joy into our lives. Transforming an excursion into a pilgrimage offers a deeper level.
"If we truly want to know the secret of soulful travel, we need to believe that there is something sacred waiting to be discovered in virtually every journey."   Phil Cousineau
I experienced a delightful and amazing pilgrimage through Germany, Austria, and Czech Republic. I love the rich history and detailed and unique architecture. My hubby and I traveled with a wonderful group, renewing and making new friendships. The weather was perfect with only a few sprinkles.
One highlight of this pilgrimage was seeing the Passion Play in Oberammergau. As I watched Jesus ride in on a donkey (yes there were multiple scenes with live animals), my heart squealed, "There he is. There's Jesus!"  He greeted the children and adults with such tender unconditional love.
The scene depicting the Upper Room washing the disciples' feet and sharing bread and wine brought tears to my eyes. During Jesus's anguish in the garden, an angel stood near and Jesus kept his focus on the sacred. It was so real hearing the pounding of the nails putting him on the cross. And of course, the magnificent, good news that He is risen. What an experience.
Watching Jesus as he prayed in the garden seared into my mind the reminder to keep my eyes on God especially in the toughest moments and that God never leaves us alone.
We arrived home late Saturday night, bone weary tired from long airflights, snarled Chicago traffic and hunger for home. I love to travel – seeing new parts of the world, expanding my point of view, and appreciating God's creation. But I love home too. So good to sleep in my own bed, take a shower here and reconnect with family, friends, and neighbors. Felt soooo good to be home.
I wrote before on this blog about the rewards of routines and the advantages of adventures where I shared, "Routines keep me on automatic mode to stay healthy, attune to the important details of life. Adventures nourish my imagination and stir my spirit that at times settles into sleepy hibernation. I soar with adventure; I sink deep roots in routine."  This is still true for me today.
I have much to thank God for. Wonderful opportunity to travel and to grow in pilgrimage. Health and finances to be able to travel. A wonderful hubby as a travel companion. A safe home to return to and enjoy.
Yet I woke up overwhelmed with tears the next day. I remembered with deep sadness the many, many, way too many people without homes. Without health or a partner to go with. Those suffering, scared, grieving. Unnecessary pointless violence and wars.  I cried out, "Come Lord Jesus, heal our world. Bring peace, your peace to all. Lord, have mercy."
Since home I have been flooded by emotions. The senseless tragedies. The sadness and grief in the world. My heart weighs heavy with gratitude for all the blessings while at the same time guilt for my privilege while so many suffer. I feel joy with the pilgrimage memories while holding sorrow with the brokenness of the world.
"I am beginning to see that much of praying is grieving." Henri Nouwen
I greeted each emotion and listened to their lessons. How is God shaping my own journey with these varying highs and lows?
Richard Rohr wrote in his daily email last Monday:
"Friend, you are the only one standing where you stand, seeing what you see, with your vantage point, your story. You are right there for a reason: to have, as my dear friend Ruby Sales says, "hindsight, insight, and foresight." I want us to learn to see, with our eyes wide open, how best to be healers and transformers. I want us to really see, to fully awaken, to the hot-mess times we are in and to the incredible power we have to love ourselves into wellness. . . . I want us open to revelation, not afraid of it, and open to the ways that it will provoke us to believe assiduously in how lovable we each are, and in the love between us and among us because, actually, believing is seeing."
The backyard beckoned me outside for time with God on Monday. I accepted the invitation and sipped my coffee while praying for friends and family and drinking in the greening of the garden and the peaceful ocean of blue above me. 
True pilgrimage changes lives whether we go halfway around the world or out to your own back yard." Martin Palmer
My spirit quieted and I listened. The birds' singing filled the air. A cacophony of chirps – loud, soft, high-pitched, beautiful notes and slightly irritating screeching. No matter what happens, each morning they sing. They show up with the song God gave them and launch fully into the chorus.
All my emotions merged into three lessons.
Be grateful for what you have, knowing it is all a gift from God.
Give what you can, pay attention and stay awake to the needs around us.
Keep singing. Keep praying. Shine God's light to all people.
I am one, but still I am one; I cannot do everything, but still I can do something; And just because I cannot do everything, I will not refuse to do the something that I can do. Helen Keller
I am grateful.
I will give to others.
I will keep singing.
How is God shaping your journey right now?