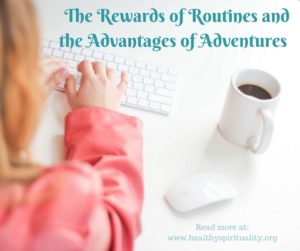 The crazy upheaval of summer schedules, traveling and get-togethers caused me to think about the rewards of routines and the advantages of adventures. I love them both and cherish having the ability and opportunity for the predictable and the impulsive times but wow – when I am in one mode do I crave the other.
Anyone else notice that tension between the rewards of routines and the advantages of adventures?
The Rewards of Routines
Freedom – We have had such a busy summer! When I flipped the calendar to September, I smiled. Though we have plans between now and the end of the year, there is only one multi-day trip scheduled, so many Monday through Fridays are mine to organize as I wish. Ahhh, routine gives me freedom.  More control. A sense of managing time in MY way.  And to be honest, sometimes I just don't want to make more decisions and have to think through everything. Let the pattern of the day guide me. This type of freedom relaxes and releases built-up anxiety.
Devotions – Routine helps me intentionally create time with God in a regular uninterrupted fashion. I know when I hem my days – the beginning and the ending – in prayer and time with him – I feels his presence more throughout the day.
Framework – I love the sense of accomplishment by checking off items from my daily to-do list and tackling bigger projects, like writing books, that God has placed in my heart. Routine provides time, space, and support to getting things done. Routines keep me on track.
Physical Habits – I keep up my Fitbit challenges and eating less unhealthy snacks when at home and in the flow of routine.  The practices of healthy habits thrive with routines.
Anticipation – I know what to expect when living in routines. The comfort of knowing the order of my work day, the sequence of our Sunday worship service, the familiarity of songs and rhythms of each day. I am content and joyful in the cyclical beat of life.
BUT too much routine can get boring, lead to laziness and discontent, and become too constrictive in its predictability of the same old grind.
Routines are normal, natural, healthy things. Most of us take a shower and brush our teeth every day. That is a good routine.
Spiritual disciplines are routines. That is a good thing. But once routines become routine you need to change your routine.
Mark Batterson
******
The dull routine of our daily job takes on a new significance, assumes a beauty and importance undreamt of before, if we consider it from the angle of service to God.
Godfrey Winn
The Advantages of Adventures
Paying Attention – When I am out of my normal day-to-day point of view, I notice more details in life and in nature. I am awake. I am alive. I experience God, not in my orderly pattern of prayer, but by dancing in his universe, his creation, his "beyond any imagination" fashion. I am wow'd by God when I embrace adventure. 
Creativity – Routine helps me get things done and out of the way, allowing for time and space for new ideas to emerge. But creativity blossoms in the wild and innovative garden of the open territory of the unknown, strange, and new. I discover, explore, and flourish in the sweeping ranges of spontaneity and novel undertakings.
Refresh and Renewed – Leaving the old patterns behind and letting go of the known framework is like sipping on cool restoring water. I dive in and shower in enlivening waterfalls of inspiration.
Heightened senses – I observe more when on an adventure.  My mouth swirls with new tastes.  I sleep in different beds and stretch my mind in different time zones. My mind bursts with history lessons and exploring places I've never been before. I am grounded with others from the past and dreamers of the future. I am part of a whole – the network of humans across centuries.
We Need Both Routine and Adventure
I love coming home from a vacation and snuggle back into the warmth of routines. My soul needs both. My spirit takes a risk to leave my safe harbor to learn, stretch, grow and live and returns home, rested and ready to work.
Routines keep me on automatic mode to stay healthy, attune to the important details of life. Adventures nourish my imagination and stirs my spirit that at times settles into sleepy hibernation. I soar with adventure; I sink deep roots in routine.
[Tweet "I soar with adventure; I sink deep roots in routine."]
Routine keeps me on a path that may evolve to a rut if I am not careful.  Wake up soul and venture off the path occasionally.
Not all who wander are lost.
T. R. R. Tolkien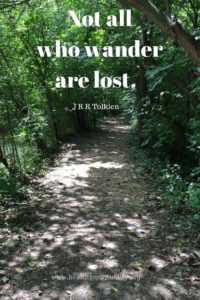 How do you feel about the balance of routines and adventures? What rewards of routine and advantages of adventure would you add? Do you find yourself preferring one more than the other? Between now and the end of the year – how will your patterns change?  Let's have fun, discussing this topic here in the comments.