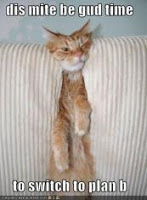 What can we learn from life's Plan B's?
Plan B is a new direction we take or are forced to take when what we originally planned/hoped/dreamed for fell apart.
Often we are not happy when we first enter this new place – we are angry, disappointed, and hurt.
I recently read new book by Pete Wilson, called
Plan B
(see review below of the book that I received as part of Booksneeze book reviews). This book inspired me to think about the Plan B's in my life and the lessons I learned.
Every life overflows with Plan B's (and probably C's. D's and XYZ's too). The honest truth is that we are not really in control no matter what we chose to think.
I planned to have my dad walk me down the aisle – he died when I was 16.
I envisioned my mom holding my babies – she died ten months before I conceived.
I thought I would earn my Masters degree before the age of 30 – I did achieve that dream, but not until my 40s.
Bill and I thought we would live our entire lives in a midsize college town
– yet God planted us in a village of 900 people in rural northwest Ohio.
The list goes on and on and I am sure you have a record of shattered dreams and u-turns from your life too. Many of us have held crying children who hearts are broken. I have lost count of the numerous times I secretly sought revenge for a hurt or someone deliberately ruining my best plans. My husband's favorite saying (we think we will inscribe it on his tombstone as his last words) and my kids know it quite well: LIFE IS NOT FAIR!
So what have I learned as I navigate all the twists and turns of life?
·

     
God is always with me no matter the circumstances. He never leaves.
·

     
God will make something out of the mess I am in.
If I wait and watch, I will see His hands at work eventually.
My job is to let go of the situation from my hands into His hands.
·

     
God will provide the mile markers to help me navigate this new place. I usually have to wash the mud from my eyes to see His guidance.
·

     
God works in His own time – not on my timetable.
·

     
I am human and continue to struggle with the belief that I am in control. God understands that aspect of me, listens to my confession, and gently reminds me He is the one in control.
Quotes to Ponder:
"When God is going to do something wonderful, He or She always starts with a hardship; when God is going to do something amazing, He or She starts with an impossibility. "
"Everyone who got where he is has had to begin where he was."

 

– Robert Louis Stevenson

What have you learned from the Plan B's in your life?
Book Review: Plan B by Pete Wilson
Expectations. Dreams. Hopes. Plans. What happens when we what we hoped for falls apart?

A new book by Pete Wilson,
Plan B,
presents a Christian overview of "
what to do when God doesn't show up the way you thought He would.
"
The book is written in clear language full of personal and Biblical examples. The reader feels like he is sitting across of table with the author discussing Plan Bs.
Chapter titles include Don't Run, Whiplash, Paralyzed, Darkness, Power and Hope and my favorite: The Illusion of Control.
In the Illusion of Control chapter he writes that
 "
the greatest of all illusions is the illusion of control
."
I love the use of the word illusion with the concept of control as it captures the fantasy we all try to live in a short easy to remember phrase.
Quotes from the book:
"I'm wondering how different life would be for each one of us if we chose to view our circumstances and our relationships as the gifts they are."
"When you're in a Plan B, you need community more than ever. And yet, because of the pain that comes along with a Plan B, it's easy to miss the God given gift of community."
'God does His best work in hopeless situations."
"When life is uncertain, God is not. While our power is limited, God's is limitless. While our hope may be fragile, God is hope himself."
Plan B offers a wonderful list of discussion questions at the end of the book that would work great in a small group or Sunday School study.
Nice book filled with hope.
My only criticism would be while it is a wonderful overview of the topic, when I finished I wasn't sure if I really learned anything new. The book opens up readers' hearts to ponder about the Plan Bs in our lives – then the real work begins applying what we already know to be true to living and thriving in our Plan B's.
Disclaimer: I received Plan B as part of Thomas Nelsons' Booksneeze program.